Connect to WiFi at MVC
Students and employees receive free internet connectivity for up to 5 personal devices while on campus through the RCCD WiFi network. Simply log in with your full email address as username and password. Guests may use the rccd_guest network on a limited basis.
All users must follow RCCD's Board Policy AP 3720 for Computer and Network Use.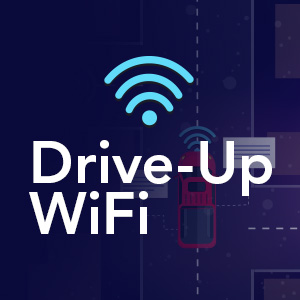 Drive Up Wi-Fi
Drive-up WiFi offers the reliable internet connectivity needed to complete online work from your automobile. Available during campus hours, your coverage and speeds may vary based on your proximity to buildings adjacent to the parking lots and environmental variables.
MVC students and employees ONLY may connect using your RCCD email and password
For educational purposes only
The Student Code of Conduct applies
The area is monitored by RCCD Police Department
Hours of operation: Monday - Friday from 8 am - 4 pm
Hotspot and Laptop Loans
The Moreno Valley College Library allows students to check out hotspots, laptops and other devices to ensure they can complete their assignments on time and without issue. You must be an enrolled student to be eligible. Supplies are limited and restrictions apply.
Wireless Internet for Vendors and Guests
The rccd_guest wireless network allows guests to use their personal or company device(s) to access the internet. Available on all three colleges, the rccd_guest network will standard users 90 minutes of access and elevated users permanent access.
Standard

guest access allows internet access in 90 minute intervals. Restrictions including high-bandwidth streaming services, questionable content, and resources that may negatively impact RCCD instructional and/or operational use, are applied.
Elevated

guest access requires a sponsored guest account created by HelpDesk. Elevated access includes less access and speed restrictions. If you require Elevated guest access, please contact the department that you are working with and ask them to submit a work order through the

ServiceDesk.
The guest network allows guests internet access on personal devices. Guest access may not be available at satellite campuses or other District sites.
Find and select the

rccd_guest

wireless network.
A webpage should appear or your device will prompt you for further actions.
For Standard guest access: Use the displayed credentials.
For Elevated guest access: Use the sponsored credentials provided by your point-of-contact (see information above on how to request it).
After entering the credentials, click Sign On.
Guest internet access comes in two levels: standard, which all guests may access, and elevated, which requires a college or District sponsor.
A single guest account can take up to 24 hours to process. Department sponsors may request elevated access for a guest (speaker, vendor, etcetera) through

ServiceDesk

or by emailing

helpdesk@rccd.edu.
Have the following information ready when requesting an elevated guest account: day and time of the event, number of users, name of the event and access needs. Multi-user and multi-day events can be allowed if given ample advanced notice is given to the Helpdesk. Extended connection days and times must be defined by the guests' department sponsor.