Mental Health and Mindfulness
MVC believes that the well-being of students extends beyond the classroom.
We promote a mindful campus
Mental health encompasses our social, emotional and psychological well-being. Strong mental health is important at every stage of life, as it determines how we handle stress, make choices and relate to those around us.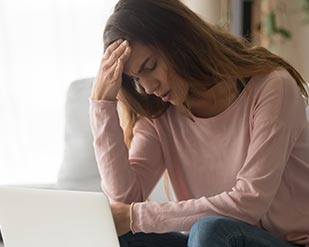 Therapy and Counseling
Free mental health counseling is available to students by appointment.
Meet with licensed marriage and family therapists for one-on-one sessions Monday through Friday. Our team of therapist CAN listen and CAN help you to maintain a healthy balance of life, family, school and relationships.
Call (951) 571-6103 or email wellness@mvc.edu to get started. All counseling is kept highly confidential.
Therapy can be for everyone, whether you believe your problems are big or small.
Therapy and counseling can help you learn to manage academic stress, test anxiety, thoughts of self-harm or suicide, relationship challenges, trouble sleeping, agitation/anger, sexual identity and orientation, depression/anxiety, substance abuse, eating disorders, domestic violence, emotional crisis, rape, and difficulty adjusting to major life changes.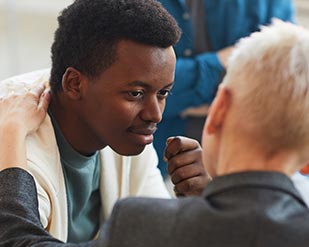 Support and Education
MVC provides education and systems of support to help you enhance your wellness.
Recurring weekly wellness activities are available to help you learn tips and strategies to build healthy relationships, decrease stress, succeed in college, eat healthy and more.
Mental Health and Wellness Webinars are wellness and life coaching online sessions hosted by MVC's Health Services team. Learn tips and strategies to build healthy relationships, decrease stress, succeed in college, eat healthy and more. Plus, community groups are available. Drop-ins welcome. Join anytime.
You Can Help Prevent Suicide
Every life matters. You can help prevent suicide by educating yourself about the warning signs of suicide and by sharing valuable resources with your community. Sometimes all it takes to start someone on their journey to recovery is a listening ear. Plus, resources are available to anyone in need of assistance.
11:00 AM - 12:00 PM
Online via Zoom
11:00 AM - 12:00 PM
Parkside Complex 9
11:00 AM - 12:00 PM
Online
Contact Us
Student Health and Psychological Services offers comprehensive preventative health, mental health, and referral assistance. If you have questions, reach out to us. For immediate emergencies, contact 911 or RCCD police.
Email Us
Self-Service Health Portal
Phone

(951) 571-6103

Hablamos Español

Location

Parkside Complex 6 (PSC 6)
Community Resources
California Mentor Family Support Services
At The MENTOR Network our mission is to offer adults, children, and their families innovative, quality services and supports that lead to growth and independence, regardless of the physical, intellectual or behavioral challenges they face.
California MENTOR Family Support Services' mission is to create a system of services that provide children with complex conditions options for living in the community, supports for attaining independence, and opportunities to grow and develop personal connections in natural settings.
About CA Mentor Intensive Outpatient Services Referral (pdf)
Suicide Prevention
National Suicide Prevention Hotline:

1-800-273-TALK
Stress and Crisis Support
Lifeline Chat: Online Emotional Support
Lifeline Chat

is a place to talk about problems and stress that may be difficult to talk about anywhere else... a place to find non-judgmental support and help through a difficult time. Lifeline Chat is a place to find information on mental health problems and services. It's a confidential, secure, and anonymous way of reaching out for help when you don't know where else to turn.
Community Crisis & Hotline
Phone: (760) 323-1875 (24 hours). The Community Crisis & Help line provides comprehensive education, information, referral, and direct assistance for individuals who seek services through a twenty-four (24) hour phone line, staffed by trained volunteers.
Moreno Valley College:
Phone: (951) 571-6103, or (951) 571-6147
Location: Parkside Complex (PSC) 6
Hours: Monday, Tuesday, Thursday: 8 am - 4 pm
Friday: 8 am - 12 pm

Norco College:
Phone: (951) 372-7046
Location: Wilfred J. Airey Library Building, Lower Level
Hours: Mondays & Thursdays 8 am - 7:30 pm
Tuesdays & Wednesdays 8 am - 4:30pm
Fridays: 8 am - 2 pm

Riverside City College:
Phone: (951)-222-8151 or Walk-in during hours.
Location: Bradshaw Building, Basement behind EOPS
Hours:
Fall and Spring: Monday - Thursday: 8 am - 4:30 pm | Friday: 8 am - 12 pm
Winter and Summer: Monday through Thursday 8 am - 4:30 pm
Mental Health-Emergency Treatment Services (ETS) provides evaluation crisis intervention and referrals to patients experiencing psychiatric emergencies. Client may be referred to Inpatient Treatment Facility.
(951) 358-4881 (24 Hours)
9990 County Farm Road
Riverside, CA 92503 (see interactive map)
Addiction Resources
Alcohol
Riverside Oficina Central de Riverside, Main: (951) 687-7090
Inland Empire: (909) 825-4700
Drug and Substance Abuse
Narcotics Anonymous: (909) 795-0464 (For Spanish, call (888) 622-4672)
Cocaine Anonymous: Inland Empire (951) 359-3895
Gambling
National Problem Gambling Helpline: (800) 522-4700
Alternatives to Domestic Violence: (951) 683-0829
Domestic Violence Advocacy Project (Legal Aid): (888) 805-6455, (800) 226-4257
Support, information, and resources are available to you if you have been a victim of rape, sexual assault, dating violence, domestic violence, and/or stalking crimes or have friends, peers, or acquaintances who have been victimized.
All sexual assaults are considered very serious matters to Moreno Valley College and are given the highest priority for response. A survivor of rape or sexual assault on or off campus may obtain assistance by contacting campus police at (951) 222-8171 or Health Services at (951) 571-6103.
Talk to someone:

National Suicide Prevention Hotline:

Learn more:
Multicultural assistance:

Korean Speaking Counselors 24-hour Crisis Line: (877) 727-4747
Vietnamese Speaking Counselors 22 hrs/week Crisis Line: (877) 727-4747