Community Dental Services
The Dental Hygiene Clinic at Moreno Valley College provides dental preventive services in a professional and caring environment. Students from the
Dental Hygiene
and
Dental Assistant
programs provide patient care under the supervision of licensed faculty. In this educational facility, you will receive high quality, affordable care that is patient orientated. Services are provided for adults and children.
Services
Routine cleanings
Deep cleanings with local anesthesia
Fluoride treatments
Nutritional Counseling
Radiographs
Sealants
Selective polishing
Smoking cessation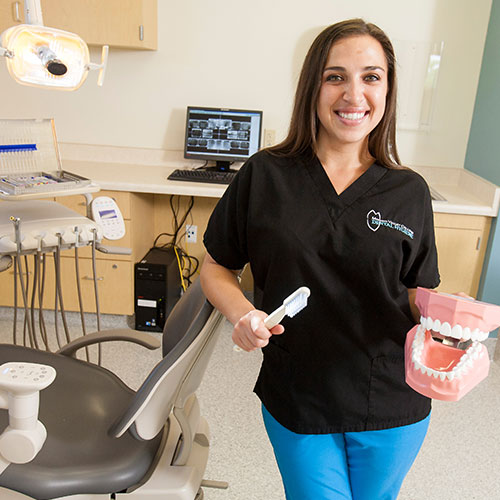 We care for your smile...
... because caring for our community is the best part of what we do.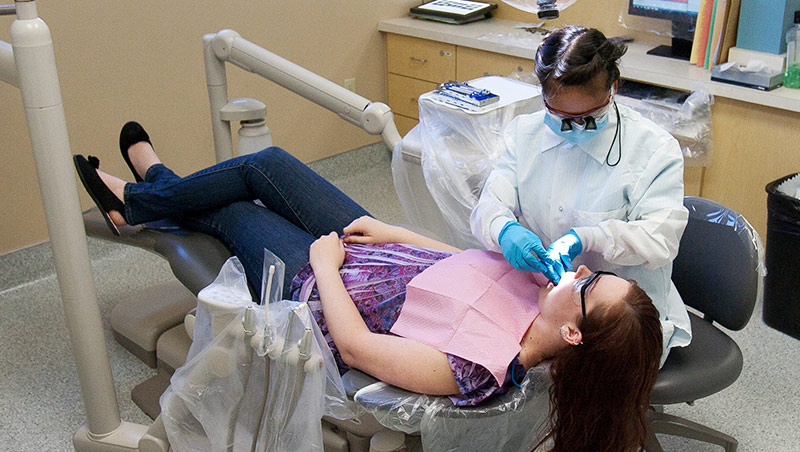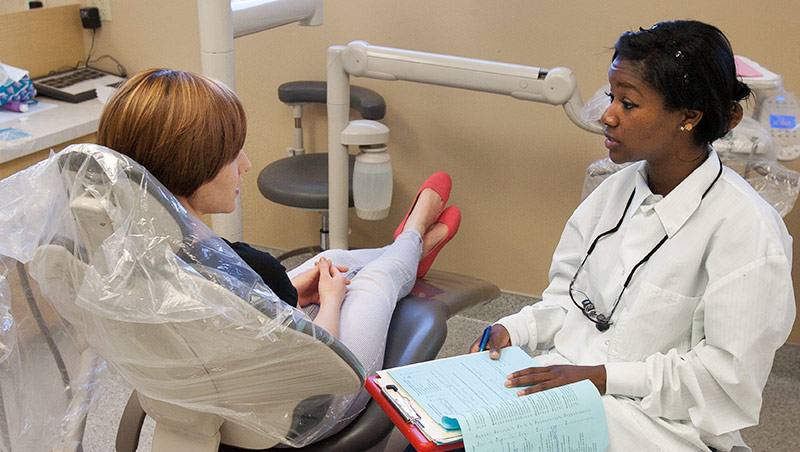 Become a Patient
Interested individuals are encouraged to either call us at (951) 571-6435 or contact us. New patients will be scheduled for a screening only appointment so that the dental hygiene faculty can assess your dental hygiene needs.
Individuals, who have needs beyond the skill levels of our students, will be referred out to the general practice settings. Once the new patient has been through the screening process, they will be assigned to a dental hygiene student who will schedule an appointment. Patients are required to provide their most recent dental radiographs (both a full-mouth series and bitewing). The assigned dental hygiene students will assist patients with this. Students work at a slower pace that licensed practitioners as they are developing their skills and expertise. To assure that the services being provided are at the highest quality possible; faculty members will be checking each step of the process. Therefore, appointments can last between 1.5 to 2.5 hours and there will be multiple appointments needed to complete the assessment and cleaning process.
Provide honest and complete information on your medical and dental history.
To ask questions to better understand treatment options.
To give at least 24 hours for any cancellation of an appointment.
To seek routine care annually from a dentist.
To obtain any previous radiographs.
The students, faculty, and staff at Moreno Valley College strive to provide a high quality of care in the Dental Hygiene Clinic. As our patient, you are entitled to:
Considerate, respectful and confidential treatment;
Treatment that meets the standard of care;
Continuity and completion of treatment;
The right to ask questions about your dental health or treatment at any time;
Access to complete and current information about your dental health;
Adequate information on your needs to give consent to proposed treatment;
Accurate information about the costs prior to treatment;
Explanation of recommended treatment, treatment alternatives, the option to refuse treatment, the risk of no treatment, and expected outcomes of treatment options; and
Confidentiality regarding your medical history, oral health and your dental records
At the MVC Dental Hygiene Clinic we value the importance of oral health and its impact on general health. Our goal is to serve the surrounding community and offer affordable preventive dental services. Fees may be paid in the form of cash or check. Payment is due on the date service is provided. The MVC Dental Hygiene clinic does not take dental insurance.
Fall Semester
(September - December)
Monday: 9 am - 12 pm and 1 - 4 pm
Wednesday: 9 am - 12 pm and 1 - 4 pm
Spring Semester
(February - June)
Monday: 9 am - 12 pm and 1 - 4 pm
Tuesday: 9 - 10:30 am and 1 - 5 pm
Wednesday: 9 am - 12 pm and 1 - 4 pm
Thursday: 9 am - 12 pm and 1 - 5 pm
Winter Session
(January - February)
Monday: 9 am - 12 pm and 1 - 4 pm
Wednesday: 9 am - 12 pm and 1 - 4 pm
Summer Session
(June - July)
Monday: 9 am - 12 pm and 1 - 4 pm
Wednesday: 9 am - 12 pm and 1 - 4 pm
Closures
Labor Day
Veterans Day
Winter Break
Martin Luther King, Jr. Day
Presidents Day
Spring Break
Memorial Day
Cesar Chavez Day
Summer Break