Apply for the FAFSA and CalGrant
The CalGrant and FAFSA are the most common ways that students can request help paying for college.
Get help paying for college
Financial aid is the best way to help make the costs of college affordable. Beyond help with tuition, many financial aid awards can be used to assist with supplies, housing, transportation and more. The Free Application for Federal Student Aid (FAFSA) and CalGrant application cost nothing to complete and you should submit them even if you don't think you qualify.
MVC's school code is 041735. Using the correct school code ensures MVC receives your information.
The Free Application for Federal Student Aid is a form completed by current and prospective college students in the United States to determine their eligibility for student financial aid. The FAFSA is what leads to financial support through Pell Grants, Federal Work Study, and more.
Cal Grants are State grants administered by the California Student Aid Commission (CSAC). These grants are awarded to California residents to assist them in paying for educational expenses at any qualifying college or institution.
About Financial Aid Awards
Financial awards come at various levels, from federal to state. Additional awards can be sought via scholarships or private grants. Here are some of the most common federal and state financial awards that you may receive when completing the FAFSA and CalGrant application.
The California College Promise Grant (CCPG) is a state program that waives enrollment fees for qualifying students at California Community Colleges. The CCPG will also reduce parking fees for fall and spring semesters. However, the CCPG does not pay for books, other educational supplies, the student services fees, the health fees, or additional class fees (such as art, CPR fees or other required fees as listed in the schedule of classes).
The California Student Aid Commission (CSAC) awards the Chafee Grant to current and former foster youth to use for career and technical training or college courses. The Chafee grant is awarded up to $5,000 annually (or up to the unmet need) for students enrolled in 6 or more units during the Fall, Spring or Summer sessions.
Pell grants are the foundation of federal financial assistance and are available for students with high financial need. Unlike most federal assistance, these grants do not need to be paid back as long as you do not withdraw from classes; you successfully complete your classes and are not receiving Pell grants at another school.
The FSEOG is awarded to undergraduate students with the most financial need. Students with the lowest EFC number (zero) on their FAFSA applications who are Pell grant eligible for the award year will have primary consideration for FSEOG awards. Non-resident students as well as Study Abroad students may also be eligible.
The Federal Work Study Program offers students the opportunity to gain work experience and earn additional funding through part-time employment (up to 20 hours per week) to assist in paying for your educational expenses. The program also benefits the community by offering services at no cost to non-profit organizations and government institutions.
The Student Success Completion Grant (SSCG) provides full-time students with additional financial aid to help offset the total cost of community college attendance. The grant amount is up to $2595 annually for students enrolled in at least 12 units, and up to $8000 annually for students enrolled in 15 or more units.
To be eligible for the Student Success Completion Grant, students must:
Be eligible for a Cal Grant B or C award
Meet federal Satisfactory Academic Progress (SAP) standards
Have unmet financial need
Maintain full-time attendance
Information to Consider
During your financial aid application process, you may run into these terms or topics.
When completing the FAFSA, you will need to know whose information to report. Your information is required (and if married, your spouse's) if you're an independent student, or your information and your parents' if you're a dependent student. Federal student aid programs are based on the concept that a dependent student's parents have the primary responsibility for paying for their child's education.
You will be asked certain questions on the FAFSA to determine your dependency status according to the US Department of Education. Your answers to these questions will let you know if you are considered a "dependent student" or an "independent student" for financial aid purposes, and whether or not you will need to include your parents' information.
If you answer "No" to all of the eligibility questions in the FAFSA, you are considered a dependent student and must include parental information and their signature on the FAFSA. Your parents' ability to contribute to your college expenses will be considered when determining your eligibility for financial assistance.
If you answer "Yes" to at least one of the eligibility questions, you are considered an independent student and will be evaluated for financial assistance based on your own circumstances. Your parental information and signature will not be necessary.
Most students entering a postsecondary school straight from high school are considered financially dependent on their parents. This means their parent(s) (biological or adoptive) must provide information on the FAFSA. A student cannot be determined to be independent just because:
Parents do not want to provide information on the FAFSA due to privacy concerns.
Parents do not feel it is their responsibility to provide financial assistance for college.
Parents no longer claim you as a dependent on their taxes.
You are self-supporting and/or no longer live with your parents.
In extreme cases, the Student Financial Services office may be able to use professional judgment to override your dependency status if you can prove that extenuating circumstances exist in the family such as:
You have no contact with your parents and are unable to locate them
You have left home due to an abusive situation and your physical and/or emotional welfare are jeopardized by having contact with your parents
If you have extenuating circumstances and are unable to complete the parent(s) section on the FAFSA application it is recommended that you complete the FAFSA with your information, mark the section of the FAFSA that says "I am unable to provide parental information," and apply for a Petition for Independent Status at the Student Financial Services office. The petition must be submitted with official supporting documentation
About one-third of FAFSA applications are selected for verification each year. The US Department of Education (ED) requires colleges to verify financial and other information entered on the FAFSA to ensure that information provided by students and/or parents is accurate. Verification of FAFSA data helps Student Financial Services accurately and fairly determine the types and amounts of federal, state, and institutional aid students receive.
Moreno Valley College has the authority to contact you for documentation that supports the information you reported. In addition, Student Financial Services is allowed to select additional students for verification and/or to verify additional data elements. If selected by ED for verification you might see a note on your Student Aid Report stating that you have been selected for verification. Once FAFSA data is downloaded into our system, Student Financial Services will email you at your RCCD student email address. In this email we will direct you to check for Financial Aid Tasks to complete.
If you have been selected for verification, you may be required to submit additional documentation and/or complete actions so that Moreno Valley College can verify if the information on your FAFSA is accurate. If Student Financial Services finds discrepancies, it will be corrected based on the documentation provided. Financial Aid Tasks can be viewed at mvc.verifymyfafsa.com by logging in with your RCCD student email and password.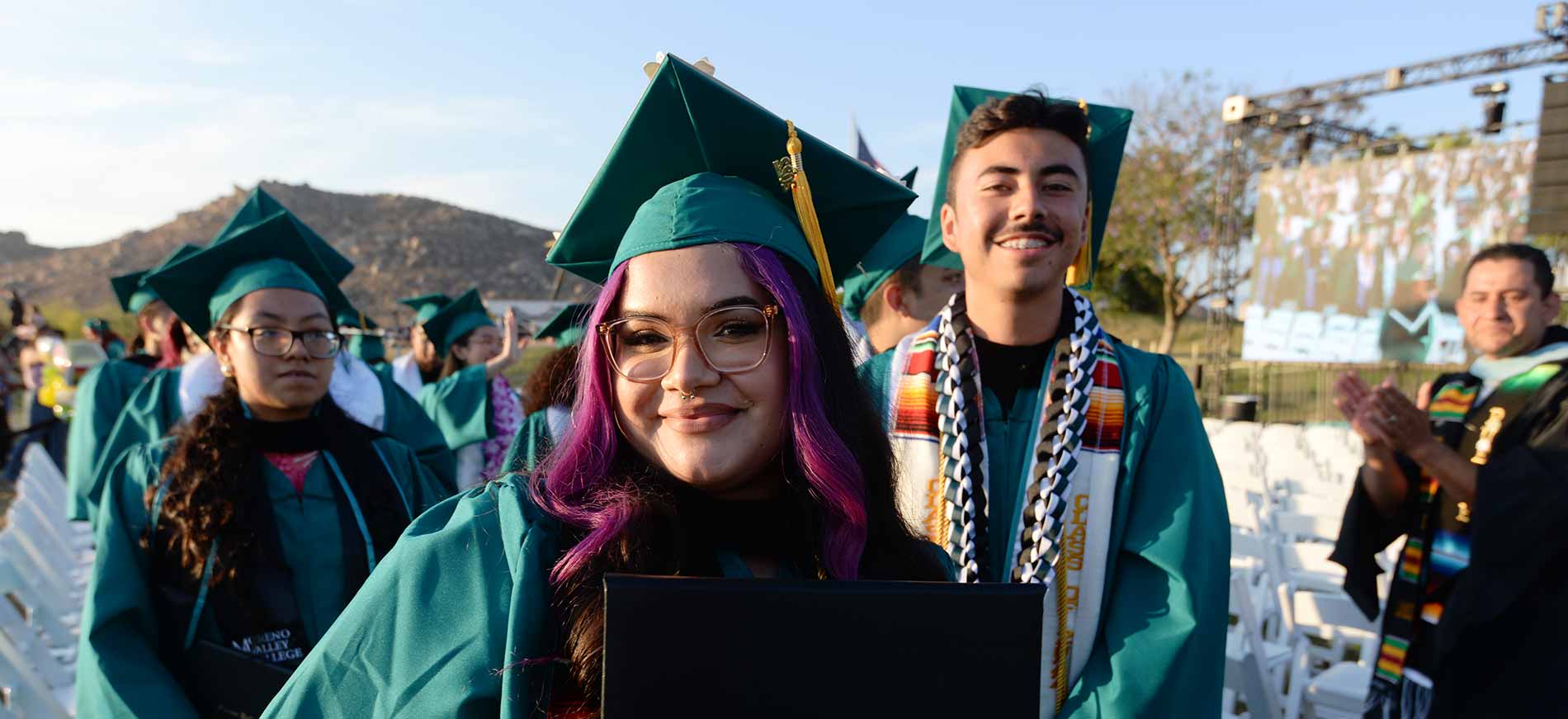 Ready to become a Mountain Lion?