About the Program
The Associate in Science Degree in Dental Hygiene is a two-year program. The program includes the fall and spring semesters, winter intersessions, and one summer session. Upon completion of the 61.5-unit program, program prerequisites, and any additional requirements needed to fulfill the Associate in Science Degree (see the Moreno Valley College Catalog), the graduate will earn an Associate in Science Degree.
Students in good standing in the program are eligible to take the National Dental Hygiene Board Examination in April of their second year. Upon graduation and successful completion of the National Dental Hygiene Board Examination, graduates are eligible to take state and/or regional licensing examinations.
Application Process View Information Packet (pdf) Outcomes
Goals
The Goals of the Dental Hygiene Program are to:
Maintain compliance with the Committee on Dental Accreditation and the Dental Practice Act of California.
Provide a dental hygiene curriculum that prepares the student to function as a competent practitioner.
Ensure the curriculum incorporates knowledge of the latest in technology and scientific research.
Maintain proficient dental hygiene faculty and staff to ensure a high quality educational program.
Prepare students to successfully complete the National and State Licensing Examinations.
Prepare students to possess behavior that is based on the ethical and moral values as outlined by the American Dental Hygienists' Association.
Provide dental hygiene services at a level that promotes patient satisfaction.
Program Competencies
Upon completion of the program, the student will be competent in:
Providing and evaluating all aspects of dental hygiene services, including preventive procedures, pain control techniques, periodontal non-surgical therapies, and periodontal maintenance for children, adolescents, adults, older adults, and medically compromised patients from diverse populations.
Systematically collecting, assessing, recording assessment findings, diagnosing, treatment planning, implementing and evaluating the general, oral, periodontal, and psychosocial health of diverse populations.
Integrating behavioral, dental, and dental hygiene sciences to develop and evaluate a dental hygiene treatment plan for patients with periodontal class I, II, III, IV, and V based on accurate, current and complete assessment data, and modify treatment plan as needed to provide evidence-based treatment.
Recognizing and providing appropriate life support measures for medical emergencies that may be encountered in the dental hygiene practice.
Utilizing adjunct therapies and new technology when providing dental hygiene therapies.
Critical thinking and incorporating problem solving strategies while providing comprehensive patient care and management of patients.
Adhering to the American Dental Hygienists' Association's Code of Ethical Conduct and applying this to established ethical, legal and regulatory concepts for the provision and/or support of dental hygiene process of care.
Applying self-assessment skills to facilitate life-long learning.
Evaluating and interpreting current scientific literature.
Utilizing current technology to enhance education, patient care, research and professional growth.
Demonstrating his/her involvement in community dental health activities and affiliations with professional organizations.
Interpersonal and communication skills to effectively interact with diverse populations.
Assessing, diagnosing, planning, implementing, and evaluating community based oral health programs, including health promotion and disease prevention activities, for different target populations and in a variety of settings.
Promoting the values of oral health, general health and wellness in individuals and populations identified with risk factors, and developing strategies with other healthcare providers that promote health within these individuals and populations. This includes the ability to communicate and collaborate effectively with a variety of individuals, groups and health care providers by recognizing the cultural influences impacting the delivery of health services.
Program Curriculum
The Dental Hygiene Program curriculum consists of 61.5 units and is completed in two years. Choose a year to view a full course schedule.
Fall semester

DEH-10A – Pre-Clinical Dental Hygiene #1
DEH-11 – Principles of Dental Hygiene
DEH-12A – Principles of Oral Radiology
DEH-12B – Oral Radiology Laboratory
DEH-13 – Infection Control in Dentistry
DEH-14 – Systems Analysis of Dental Anatomy, Morphology, Histology, Embryology
DEH-15 – Head and Neck Anatomy
DEH-16 – Preventive Dentistry
DEH-17 – General Pathology
Winter semester

DEH-10B – Pre-Clinical Dental Hygiene #2
DEH-19 – Pain Control
Spring semester

DEH-20A – Clinical Dental Hygiene #1
DEH-21 – Clinical Seminar #1
DEH-22 – Oral Radiology Interpretation
DEH-23 – Introduction to Periodontology
DEH-24 – Ethics
DEH-25 – Medical and Dental Emergencies
DEH-26 – Dental Treatment of Geriatric and Medically Compromised Patient
DEH-27 – Oral Pathology
DEH-28 – Basic and Applied Pharmacology
Summer semester

DEH-20B – Clinical Dental Hygiene #2
Fall semester

DEH-30A – Clinical Dental Hygiene #3
DEH-31 – Clinical Seminar #3
DEH-32 – Dental Materials
DEH-33 – Periodontology
DEH-34 – Cultural Diversity in Healthcare
DEH-35 – Community Dental Health Practicum #1
DEH-36 – Research Methodology
DEH-37 – Nutrition in Dentistry
Winter semester

DEH-30B – Clinical Dental Hygiene #4
Spring semester

DEH-40 – Clinical Dental Hygiene #5
DEH-41 – Clinical Seminar #3
DEH-42 – Practice Management and Jurisprudence
DEH-43 – Advanced Periodontology
DEH-44 – Community Dental Health Education #2
DEH-45 – Community Dental Health Education Practicum #2
DEH-46 – Advanced Topics in Dental Hygiene
Approximate Program Costs
Cost Category
Details
Total
Tuition
$46 per unit for California residents (61.5 units)
$2,829.00
Health Fees
$20 for fall/spring
$17 for winter/summer
$131.00
Student Services Fee
$30 for fall/spring
$10 for winter
$150.00
Parking
$50 for fall/spring
$25 for summer
$225.00
Books and Video Licenses
This will include approximately 20 books and one two-year instructional video license.
$1,500.00
Instruments, Supplies and Clinic Gowns
These items the student will use throughout the program and will take them when they graduate.
$

7,200.00

Magnification Glasses
Magnification glasses with a light are required.
$1,300.00
Liability Insurance
Two-year policy required.
$120.00
Medical Clearance and Vaccinations
Cost for a physician's visit, blood work, etcetera. This will cost depending on what is needed.
$300.00
Total Estimated Program Costs
$13,755.00
Careers and Program Outcomes
The labor market for dental hygienists is bright and supports all MVC graduates to successfully achieve employment within the Inland Empire. According to the Bureau of Labor Statistics, US Department of Labor, Occupational Outlook Handbook, the job growth is projected to be one of the fastest growing occupations.
A registered dental hygienist (RDH) is a licensed dental professional who is an integral part of a successful dental team. The RDH provides preventive, educational, and therapeutic services to patients which can include oral examinations, oral prophylaxis (scaling, root planning, soft tissue curettage and selective polishing), dental radiography, pain control (administering local anesthesia and nitrous-oxide/oxygen sedation), dental sealants, preventive and adjunct therapies, nutritional counseling and oral health education. The Dental Hygiene Program will prepare graduates to work in a variety of settings, such as private dental offices, schools, health centers, government agencies, and private industry.
Those with a baccalaureate degree or higher may also work as an educator in dental hygiene; as an administrator for community dental health programs; or a researcher in a corporate setting or university.
Bachelor and master's degree completion programs are available at colleges and universities - many online.
Currently, Moreno Valley College dental hygiene graduates are highly successful in passing the National Board Dental Hygiene examination as well as clinical board exams.
National Dental Hygiene Board Exam
| | |
| --- | --- |
| Year | Pass Rate |
| 2013 | 100% |
| 2014 | 100% |
| 2015 | 100% |
| 2016 | 100% |
| 2017 | 93% |
| 2018 | 100% |
| 2019 | 100% |
| 2020 | 94% |
| 2021 | 94% |
| 2022 | 100% |
Clinical Board Exam
| | |
| --- | --- |
| Year | Pass Rate |
| 2013 | 100% |
| 2014 | 100% |
| 2015 | 100% |
| 2016 | 100% |
| 2017 | 100% |
| 2018 | 100% |
| 2019 | 100% |
| 2020 | 100% |
| 2021 | 88% |
| 2022 | 100% |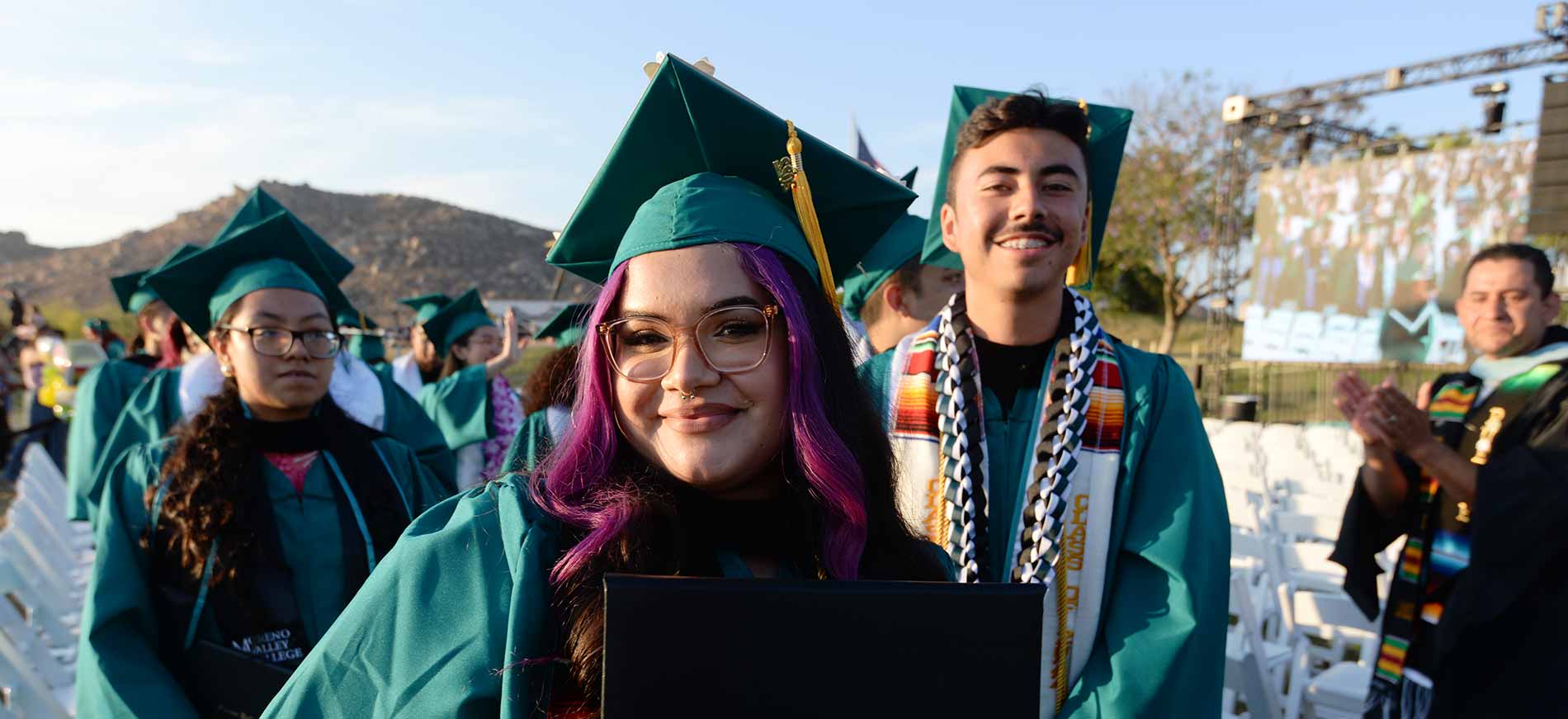 Ready to become a Mountain Lion?