Promoting digital accessibility
MVC web development keeps information on the Moreno Valley College website current, consistent and accessible. We also assist in promoting MVC as an institution, monitor website usage and security, administrate official social media accounts, oversee various software as a service systems, maintain shared governance and accreditation documents, and more.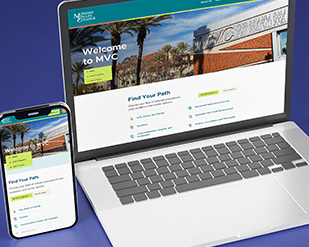 College Website
The Moreno Valley College website provides over 1,000 pages of unique information geared toward students, the surrounding community, and RCCD employees.
The Moreno Valley College website runs on OmniCMS, a content management system created by Modern Campus. First launched in June 2022, the MVC website provides a student-focused, responsive, accessible user experience.
Website content changes are made by the college webmaster or by content contributors. Requests for changes may be submitted by content owners (administrators) and their designees (classified professionals and faculty) for the pages and information relevant to their areas of practice. Requests may include minor updates (dates, times, updated files) or major overhauls (complete content replacement, new web pages, new layouts, etcetera). Any and all changes or updates must include notice to the content owner before being accepted.
When submitting requests, please include:
Editing a web page:

What page needs to be updated? Provide the URL of the page you wish to be changed.
What updates are required? Give instructions for what should be changed, and what is being added or removed (submit written content, files for upload, new headings, additional links, etcetera).
CC the content owner and/or supervisor of the department on your request.

Creating a new web page:

Where do you want it? Provide the URL of the existing section or parent department.
What do you want on it? Provide any and all content (such as a welcome message, mission statement, relevant documentation, resources/useful links, and so on)
CC the content owner and/or supervisor of the department on your request.
Please do not:
Submit executable files (.exe)
Submit requests without copying your supervisor and/or the content owner (if content designee)
Submit requests for websites outside of your purview or without permission of content owner unless it is to notify webmaster of errors
Web development offers consultation services by appointment or phone should MVC departments, programs, committees, or other College services be interested in creating or updating their internet presence.
Employees may request copy editing, graphic design, programming, new page templates, or general feedback to accomplish requests. Minor edits or corrections may be made, without notice, to submitted written or graphical content to abide by MVC's branding and writing standards.
Need to report a broken link, typo or error? Simply send an email detailing the issue and include the URL of the page you found the issue on to webmaster@mvc.edu.
Document Storage and Collaboration
Moreno Valley College's public document repository is hosted on Google Drive. This repository provides public access to documents from committees, departments, programs, and other campus groups. Private collaboration groups through Microsoft 365 are available if your documents do not need to be public-facing.
For assistance storing documentation that must be publicly accessible, or if you need help setting up a collaboration group, contact the webmaster.
Social Media
Web Development, in coordination with MVC's marketing team, administers and posts to official MVC social media pages, monitors department and/or program-specific pages, and sets up new social media profiles.
Other Services
In addition to maintaining MVC.EDU, web development also provides assistance with:
Web, programming and content development
Information architecture planning
Analysis of website usage statistics, user behavior and search engine optimization
Section 508, WCAG AA and digital accessibility compliance
Digital forms, collaboration workspaces and cloud workflows
Design/branding advice and design resources
Administration of web-based service platforms and file repositories
LISTSERV email lists
Contact Us
The web development team is here to assist you in maintaining the college website. Submit requests via email or ServiceDesk. Issues, broken links and missing pages can be submitted right on the college website.
Submit Request
Book Appointment
Noelle Hansen

Web Applications Technician