Types of Degrees and Certificates
Even more ways to accomplish your goals
At Moreno Valley College, you have the option to pursue a program of study and path toward graduation that works for you. Whether you want to focus on an associate degree, fulfilling transfer requirements, or career competency, our associate degrees, degrees for transfer and career certificates prepare you with the skills you need for a rewarding career.
Types of Awards
Learn about the different degrees and certificates you can pursue at Moreno Valley College, and what options you have when you choose your program of study.
Two-year awards in the Arts and Sciences (AA or AS)
Associate degrees consist of coursework totaling 60 units or more. This includes coursework in a specific certificate pattern plus general education and elective courses.
Moreno Valley College makes a differentiation between a standard Associate degree and an Associate for Transfer degree. A Degree for Transfer includes transfer-level coursework and pathway agreements to a local four-year university.
A degree with a guarantee
California Community Colleges offer associate degrees for transfer to the CSU. These include the Associate in Arts for Transfer (AA-T) or Associate in Science for Transfer (AS-T) degrees. These programs of study provide a clear pathway to a CSU major and baccalaureate degree. California Community College students who are awarded an AA-T or AS-T degree are guaranteed admission with junior standing somewhere in the CSU system and given priority admission consideration to their local CSU campus or to a program that is deemed similar to their community college major. This priority does not guarantee admission to specific majors or campuses.
Students who have been awarded an AA-T or AS-T are able to complete their remaining requirements for the 120-unit baccalaureate degree within 60 semester or 90 quarter units.
Students are encouraged to meet with a Moreno Valley College counselor to review their options for transfer and to develop an educational plan that best meets their goals and needs.
Credit Certificates (CE)
State-approved certificates consist of completed coursework totaling 16 units or more (sometimes 8 units or more) in a specific occupational certificate pattern. State-approved certificates may lead to employment competency and may lead to an associate degree.
Locally-approved certificates, or Certificate of Career Preparation, consist of coursework totaling between 4 to 15 units completed in a specific occupational certificate pattern. Locally-approved certificates may lead to employment competency, but do not necessarily lead to an associate degree.
Non-Credit Certificates (NCE)
Non-credit certificates can be received by taking noncredit courses. These courses are designed to support students in obtaining the skills and knowledge to get a job, get a better job, or transition to college credit education. Noncredit courses and certificates focus on helping students build specific skills that are necessary for reaching their individual goals.
Degree for Transfer Advising Sheets
Planning to pursue an associate degree for transfer? Review program and course requirements, and which classes are considered transferable to the California State University System with advising sheets.
Common Terms
Term
Meaning
California Community Colleges
The California Community Colleges system is the largest higher education system in the nation. It is comprised of 72 districts, 112 colleges, and enrolls more than 2.4 million students. Community colleges provide basic skills education, workforce training, and courses that prepare students for transfer to four-year universities. The colleges also offer opportunities for personal enrichment and lifelong learning.
California State University
Bakersfield, Channel Islands, Chico, Dominguez Hills, East Bay, Fresno, Fullerton, Hayward, Humboldt, Long Beach, Los Angeles, Maritime, Monterey Bay, Northridge, Pomona, Sacramento, San Bernardino, San Diego, San Francisco, San Jose, San Luis Obispo, San Marcos, Sonoma, and Stanislaus comprise the California State University educational system.
University of California
A California university system that includes 10 campuses across the state. Names include: Berkeley, Davis, Irvine, Los Angeles, Merced, Riverside, San Diego, San Francisco, Santa Barbara, and Santa Cruz.
Independent California Colleges (Private Colleges)
Approximately 75 colleges/universities affiliated with an
association of the same name (AICCU).
Semester System
15-18 weeks of instruction offered twice a year during the fall and spring.
Quarter System
10 weeks of instruction offered three times a year during the fall, winter and spring.
Full and part-time
Based on a number of units a student is considered either full time (12 units or more) or part time (11 units or less). The number of units is used to determine fees
Lower and Upper Division
Lower division courses are offered for freshman/sophomore level credit while upper division classes are courses offered for junior/senior class level credit.
Undergraduate
Courses offered for freshman/senior level credit. Also, students who have not completed a bachelor's degree.
Program of Study
A program of study is the unique course sequence that students follow in order to accomplish an academic goal such as a degree, career certificate or transfer requirements in a given field.
School
Moreno Valley College's degree programs are divided into 6 academic schools, designed to provide well-rounded education. Your school and its engagement center will provide you the support and services to help you succeed in your college career.
Engagement Center
Your school has an engagement center and success team available to help you access resources, plan, graduate and transfer.
Transfer Program
A community college that provides the first two years of transferable credits (60-70 units). Preparation for a bachelor's degree.
Wait List
Before the beginning of the term, if a class is closed, you may place your name on a waitlist (if available). If a seat becomes available, you will automatically be added (provided you do not have any student holds and have met any pre/corequisites). The evening prior to the first class meeting, the waitlist system ends.
Student Education Plan
A Student Educational Plan (SEP) identifies the courses necessary to accomplish your goals. An academic counselor can help you develop your SEP.
Major and Minor
A major is a specialized field of study that a student chooses to pursue which leads to a bachelor's degree and preparation for a career while a minor is a secondary field of study outside of the major field. Some
degree programs require a minor.
Hold
A hold is a type of restriction that prevents students from enrolling in classes or receiving certain services. This is often as a result of failure to pay tuition, return school property, or violation of campus or conduct policies.
Units and Credits
What a student receives when completing a college course. Units are based upon the amount of hours spent in class.
Matriculation
Matriculation is the formal process of entering MVC, or of becoming eligible to enter by fulfilling certain academic requirements. Matriculation encompasses the process of applying, completing application requirements, and enrolling in classes for the first time.
Articulation

Articulation is the formal, written agreement that identifies courses (or sequences of courses) from RCCD that are comparable to, or acceptable in lieu of, specific course requirements at a four-year university.

Impacted Program
Some majors at colleges may be declared impacted because they receive more applications than program space allows. Impacted program applicants must normally apply during a specified time period and participate in a competitive selection process.
Transcripts
The compilation of the student's grades, credits, honors, etcetera, received throughout their college career.
Academic Probation and Dismissal

Students failing to maintain satisfactory academic progress may be put on academic probation or subject to dismissal from the College. Academic probation and dismissal limits the types of enrollment options you have. Academic probation and dismissal aren't the last step; students have options available to them that will allow them to resume normal attendance at MVC. Contact your counselor to learn more.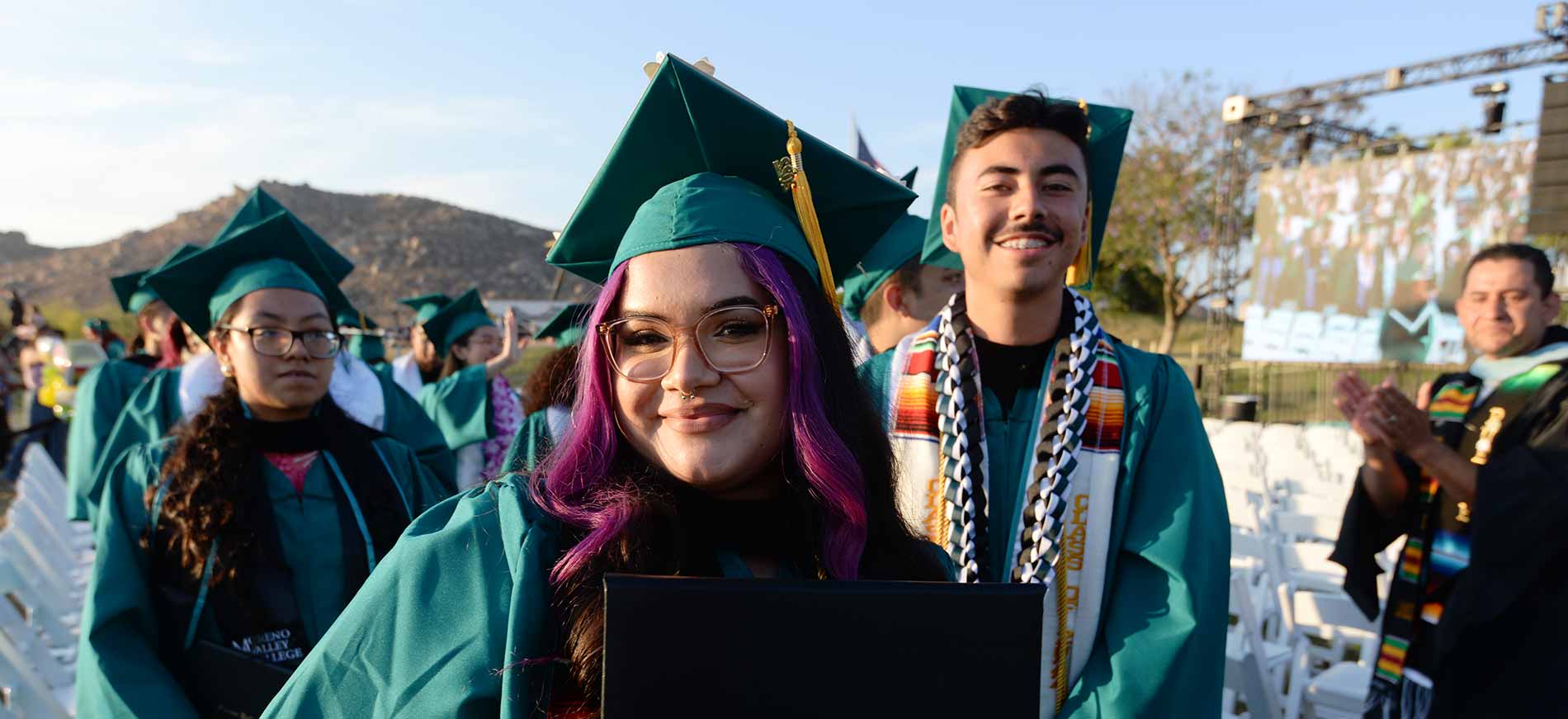 Ready to become a Mountain Lion?