RTA GoMobile App Allows Students to Ride for Free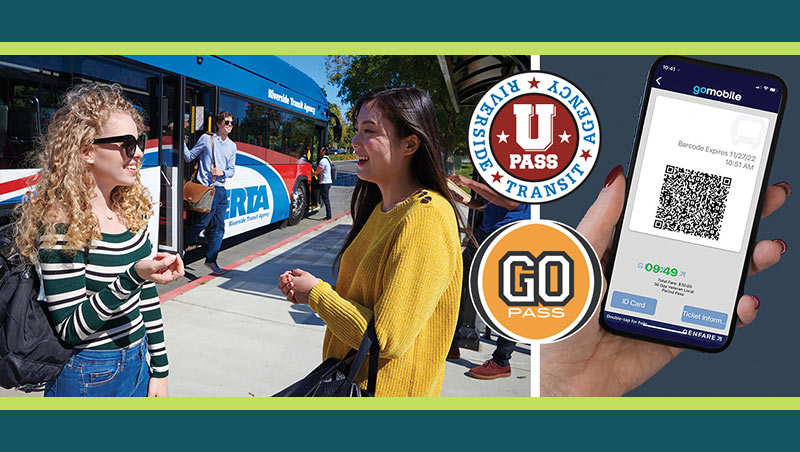 College is difficult. Getting around shouldn't be. Thanks to the popular Go-Pass and U-Pass programs, students at Norco College, Moreno Valley College, and Riverside City College get endless rides anywhere the Riverside Transit Agency (RTA) goes, anytime they operate.
What is GoMobile?
GoMobile is the Riverside Transit Agency official transit app and your partner for riding the bus. GoMobile is an all-in-one mobile app where you can buy passes, pay your fare on your phone, plan your trip, view estimated bus arrival times and get service alerts.
Am I eligible?
Enrolled students who have paid their tuition, including the student services and transportation fees, are eligible to ride RTA transit for free.
Once you set up your account, simply validate your mobile pass whenever you board and enjoy the ride.
How to Get Your GoMobile Student Pass
Register for classes and pay your tuition.
Use the link sent to your student email to complete setting up your RTA GoMobile account, or visit the student registration page. Your account is attached to your RCCD student email and you should use the mobile phone number you provided to MVC. If you receive a message that your account already exists, then you can move to the next step.
Download the RTA GoMobile app from the App Store or Google Play.
Log in to the app with your RCCD student email. Do not create a new account in the app and do not use your personal email.
Select My Passes and open your student mobile pass. Tap the pass to activate it (it shows a timestamp) and scan the QR code at the farebox reader. If the reader doesn't work, show your pass with the timestamp to the driver.
Enjoy your ride!
Need help?
If you have any questions, contact RTA Customer Service at (951) 565-5002. If you have a concern about your eligibility or tuition payments, contact Admissions & Records.