Fall Financial Aid News and Updates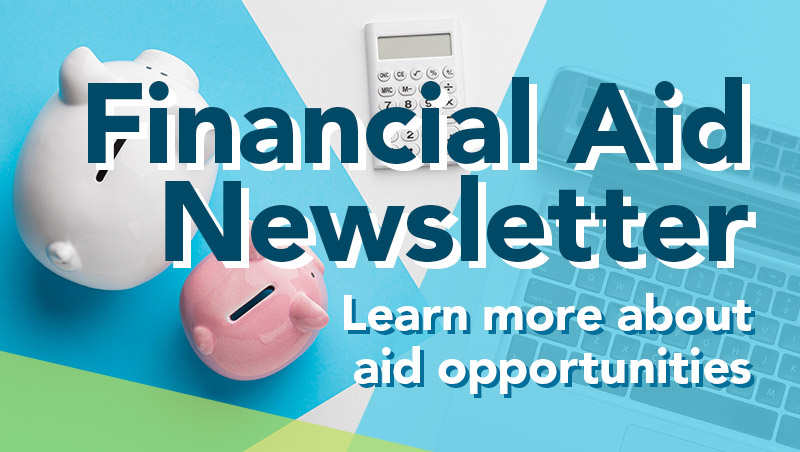 Submitting a financial aid application is the single most important thing you can do to get money for college. To help you stay up to date, Student Financial Services provides students with a seasonal newsletter that covers changes to financial aid, student employment opportunities, scholarship updates, financial advice and more. Check out the latest newsetter for fall 2022!
Open the SFS Newsletter (pdf) Financial Aid at MVC
Newsletter Highlights
Important Dates
Financial Aid Award News
The California Student Aid Commission has opened applications for the Golden State Education and Training Grant Program (GSETGP). This program supports Californians who lost their jobs due to the COVID-19 pandemic with a one-time grant of $2,500 to reskill, up-skill, and access educational or training programs to get back into the workforce. For more information and to access the application, visit GSETG.
The Student Success Completion Grant (SSCG) is a financial aid program for Cal Grant recipients attending a California community college full-time. Beginning with the 2022-2023 award year, the Student Success Completion Grant pays Cal Grant B or C recipients enrolled in at least 12 but fewer than 15 semester units $1298 per semester ($2596 annually). Cal Grant recipients enrolled in 15 or more semester units receive $4,000 per semester ($8,000 annually).
Financial Aid for Your Situation
Former foster youth students may qualify for the Chafee Grant or Cal Grant B.
Undocumented students can receive aid through the CA Dream Act and CA Dream Act Incentive Grant Program
MVC continues to distribute emergency financial aid for students impacted by COVID-19 each term. Application periods vary, so keep an eye on the Emergency Aid page.
Financial Advice
MVC students receive free access to two powerful services that help you plan your financial future.
Credit.org teaches you the power of paycheck planning and personal finance with classes that are open to the public.
Cashcourse.org offers you a free money guide so you can learn how to track your finances, get answers to real life money questions, and more through self-guided assignments.
Financial Wellness and Literacy
Scholarship Information
RCCD FOUNDATION SCHOLARSHIPS: The 2023-2024 application is open from October 17, 2022 through January 13, 2023. Complete just one application and be matched to multiple opportunities.
HIGH SCHOOL SENIORS: The application for high school senior scholarships is open January 1 through April 30, 2023.
EXTERNAL SCHOLARSHIPS: External opportunities are offered year-round on the district's scholarship site.
Work at MVC as a Student
Student workers have long been part of the fabric of campus life. As students earn money to pay for their education, they help meet staffing needs, gain valuable employment experience, and bring a vital and generally positive component of college life. Student employment offers part-time opportunities to work on campus, earn money to pay for educational expenses, gain work experience, and have a flexible work schedule.
Want to learn more?