Study Abroad to Take Students to Costa Rica and Belize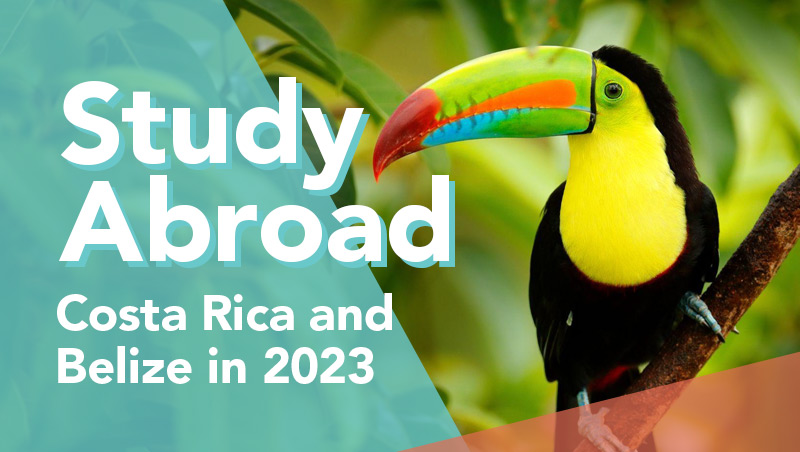 The Study Abroad Program has announced upcoming 2023 destinations: Costa Rica in winter term and Belize in the summer.
Studying abroad allows interested students the opportunity to travel, practice international citizenship, gain cultural competency and experience global diversity.
Students seeking to join the Study Abroad program should attend an information session at one of the RCCD colleges. Parents are also welcome. Information session dates for MVC mountain lions are:
Thursday, August 25 from 12:30 - 2 pm via Zoom (Join interest list to attend: Costa Rica or Belize)
Tuesday, August 30 at 12:30 - 2 pm in SAS 101
Wednesday, September 7 from 12:30 - 2 pm in SAS 101
Monday, September 12 from 12:30 - 2 pm via Zoom (Join interest list to attend: Costa Rica or Belize)
Additional dates can be found on the Study Abroad program web page. From financial aid questions to safety to travel itineraries, information sessions ensure you get a broad overview of the benefits and requirements of studying abroad.
About Study Abroad Financing and Scholarships Eligibility
Costa Rica
January 12 - 27, 2023
Costa Rica is a small country located in Central America. What it lacks in size it makes up for in breathtaking nature and friendly locals, who are more than happy to teach travelers the relaxed Caribbean way of "pura vida", or pure life.
In Costa Rica, students can immerse themselves in the stunning diverse ecosystem, which is comprised of a myriad of natural wonders, such as dense tropical forests, pristine sandy beaches, active volcanoes, and more. The abundant and exotic flora and fauna are ready to be discovered by students from all fields through extensive walking tours in some of the most famous national parks, wildlife reserves and biological stations.
Belize
July 10 - 21, ​​2023
The country of Belize is home to incredible biodiversity. Its crystalline waters, swaying seagrass beds, and lush jungles offer critical habitat for bats, tropical birds, sea turtles, and a subspecies of endangered West Indian manatees. Beneath vibrant jungle canopies and along sparkling white sand beaches, life in Belize abounds. You'll have the chance to explore and learn about these rich ecosystems firsthand on the Belize Marine Ecology program.