English Professor to Deliver the RCCD 61st Distinguished Faculty Lecture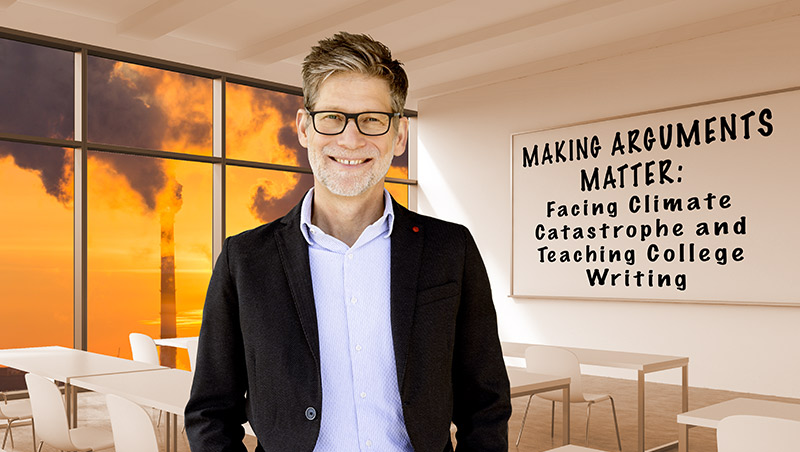 Jeff Rhyne, professor of English at Moreno Valley College, will deliver the Riverside Community College District 61st Distinguished Faculty Lecture. His lecture entitled, Making Arguments Matter: Facing Climate Catastrophe and Teaching College Writing, will analyze reports on global warming and arguments about the climate crisis to theorize why more people are not alarmed, and thus more motivated, to make or advocate for impactful changes.
The Distinguished Faculty Lecture, inaugurated in 1961, is one of the most important functions for faculty, community, and students in the District. Each year, RCCD's faculty selects one of its own to present this prestigious lecture on a scholarly subject.
The lecturer will be presented at each of the college campuses. On Thursday, April 6, at Moreno Valley College in the Student Academic Services Building, Room 121; then on Tuesday, April 18, at Riverside City College in the Bradshaw Building, Hall of Fame; and finally, Tuesday, April 25, at Norco College in the Brenda and William Davis Center for Student Success, Room 217. There is no charge to attend.
"Credible scientists have been telling the world for over 40 years that Earth's atmosphere has been warming due to the massive increase of greenhouse gases emitted by human technologies and human activities," Rhyne said. "However, the actions that have been taken over the last few decades have been too slow and too inadequate. It's now common to see news headlines that we are at a point of no return beyond which Earth may not be able to recover. Given all the information, the impassioned warnings, and the arguments that we must act decisively and rapidly, why haven't we changed our behaviors in significant ways?
"Understanding why some arguments matter—why and how they impact thinking enough to change behavior—is essential to Earth's future in the context of the climate catastrophe. Why arguments matter is also a crucial question we ask students to face in our college classes."
Rhyne has been teaching since 1992 when he started his career as a high school English teacher. He subsequently taught English foreign language in Lithuania and at California State University, Northridge. During his career in post-secondary education, he has taught college composition and a range of American and African American literature courses at UCR, Pomona College, University of Redlands, and Indiana University at South Bend before starting at Moreno Valley College in 2006.
Rhyne earned tenure and rank of associate professor at Moreno Valley College in 2010 and was eventually promoted to full professor in 2017. He currently serves as the chair of the Department of Communications, English & World Languages, and the College's vice president of the District Faculty Association.
He earned an English degree from Pomona College in 1991, a master's degree in 1998 and then a Ph.D. 2002 in English from the University of California, Riverside.
Prior to his current roles at Moreno Valley College, Rhyne served in a number of faculty roles such as assistant editor of the 2007 Institutional Self-Study Report In Support of Initial Accreditation; subsequently, he was the lead writer and editor of the 2009 Institutional Self-Study Report in Support of Initial Accreditation; he served as the Writing and Reading Center coordinator and assistant chair of the Communications Department from 2010 to 2016; he also served as Moreno Valley College's Academic Senate vice president in 2020-21; and finally as the District's Faculty Association full-time faculty representative from 2017 to 2022.
Rhyne has co-edited a collection of essays, Aesthetics in a Multicultural Age (Oxford UP, 2002), and he has authored several minor publications.
"The conclusions I draw about the climate arguments that matter reflect lessons I've learned teaching critical reading, critical thinking, and writing for almost 30 years," he said." My hope is that my reflections on why arguments matter will help us improve how we approach teaching critical thinking and argument."