RCCD Foundation Receives a Tail of the Whale Grant in Support of MVC's TRIO Programs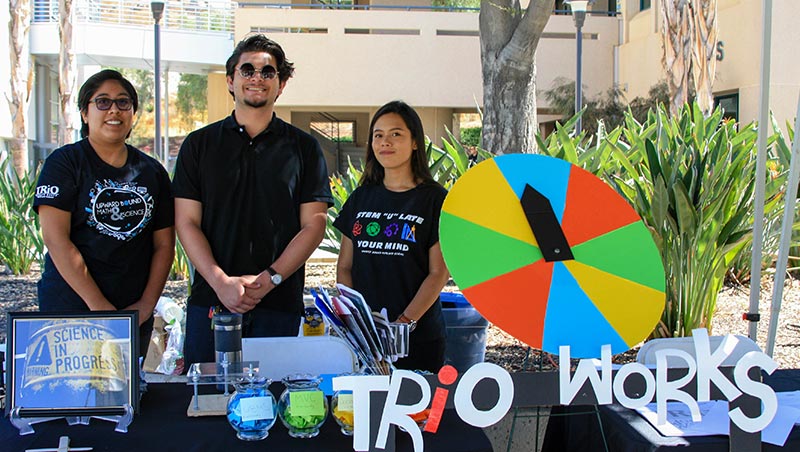 The Riverside Community College District Foundation, in support of Moreno Valley College's TRIO Programs, received a $50,000 grant from the California Coastal Commission.
The monies will be used to expose middle school, high school, and college students to career marine and coastal pathways. Participants will also learn about marine stewardship, engage in related service-learning projects, and take field trips to the coast. The program called "C" to Shining Sea will run until April of 2025 and provide students from low to moderate income, historically underrepresented, and disproportionately impacted communities to connect to college and career choices while creating a collaborative culture of citizens as change agents committed to increasing awareness of conservation, climate change, and clean California coasts.
"We sought the grant to broaden postsecondary educational and career pathways in fields that have historically not been as diverse or inclusive, such as climate change, environmental studies, and coastal, ocean, and marine (COM) sciences," Micki Clowney, director of TRIO Programs, said. "Communities in this area have limited opportunities for coastal and marine education and stewardship." "We are excited about this project for not only exposing TRIO scholars to college and career pathways related to environmental justice, climate change, and related fields but that they are able to be active change agents in supporting our inland and coastal communities."
In all, 56 Whale Tail Grant applications totaling more than $2 million were awarded to non-profit organizations, community groups, and schools for projects and programs that provide educational experiences focused on coastal protection, public access, and environmental justice.
Whale Tail Grants are supported by drivers who purchase Whale Tail License Plates, as well as California taxpayers who check the coast at tax time with contributions to the Protect Our Coast and Ocean Fund. Over the past 20 years the Commission has awarded an average of $350,000 annually across approximately 20 grants, primarily for projects that provide opportunities for inland, rural, and historically excluded communities to experience and learn about the coast and ocean and develop leadership, stewardship, and science-based skills.
In 2021 the Legislature appropriated an additional $10 million for the Whale Tail Grant Program to be expended over five years. This is the second grant cycle since the new allocation and is much higher than the average annual allocation. After several months of extensive public outreach, and guidance on how to apply for the grants, Commission staff received 149 applications. Many were first-time applicants, with innovative proposals engaging communities historically excluded from coastal education opportunities. The additional funding enabled the Commission to distribute $2,089,226.
"Once again, the range of proposals funded by the Whale Tail grants reminds us of how important the coast is to all Californians, regardless of race, zip code, age, orientation or ability," said Donne Brownsey, chair of the Coastal Commission. "This funding opens doors, expands horizons, and inspires life choices."