Grayson Receives the Margaret Hill African American Community Service Award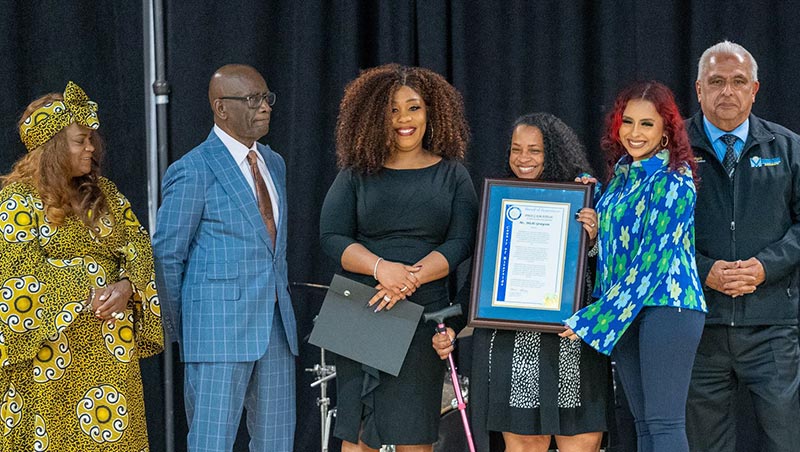 Micki Rechelle Grayson, director for the Office of TRIO Programs at Moreno Valley College, received the Dr. Margaret Hill Service Award on February 9 during the Moreno Valley Unified School District Black History Celebration at the Moreno Valley Conference Center. The award celebrates student and educational advocacy.
Hill was a community activist and longtime San Bernardino City Unified school board member who first began teaching at San Bernardino High School before moving into administration.
Grayson, who has worked for the Riverside Community College District since 2013, works with middle school through and college level students from first generation backgrounds. Moreno Valley College has four TRIO programs — Student Support Services, Educational Talent Search, Upward Bound Math and Science, and Upward Bound.
Grayson holds a bachelor's degree from the University of California, Irvine and master's degree from the University of Southern California and has served as the TRIO director since 2016. Prior to starting with the District, she held positions at UC Riverside, including serving as the director for the Student Support Services Program and the community liaison with Copernicus Project in the Graduate School of Education.
"For nearly 25 years, I have worked countless number of hours empowering people to navigate the educational process as a platform to help pursue their dreams," she said. "My passion for working with students was ignited during my undergraduate tenure at the University of California, Irvine where I worked with students from Compton and other underrepresented school districts to encourage them to go to college.
"It was through that program and other like it that I began to learn of the many opportunities that are available; however, students' lack of knowledge, access, and even finances often keep them from being able to take advantage of such programs."
Grayson figures over the years she has assisted thousands of students from Moreno Valley College, UC Riverside, Pitzer College, CSU Fullerton, and Texas State University, where she developed parent advocacy, educational outreach, and student development programs for individuals to navigate the road to college.
"I have taken to heart the philosophy that 'together everyone accomplishes more' and have always had a knack for establishing effective partnerships and bringing people together to provide unique educational opportunities for the community."
In addition to the award, Grayson was honored with proclamations Senator Richard Roth; Congressman Mark Takano; Assembly member Corey Jackson; Riverside County Supervisor Yxstian Gutierrez; and Moreno Valley Mayor Ulises Cabrera, a former Moreno Valley College student.