Six Legs Offers Endless Possibilities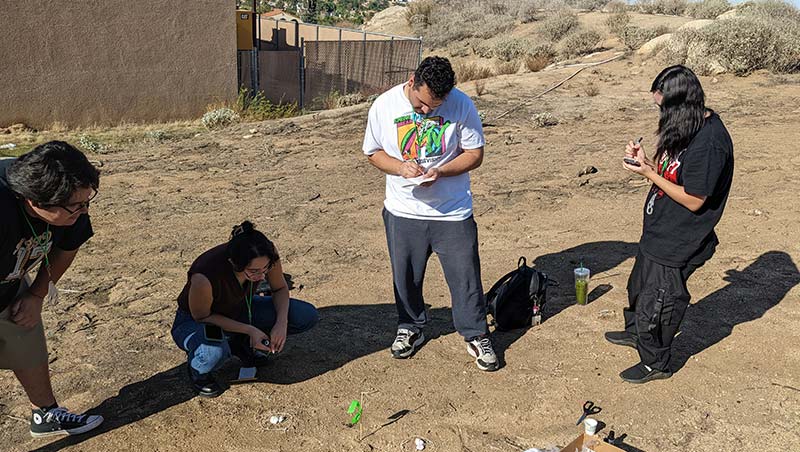 What has six legs and offers endless possibilities?
That's what the United States Department of Agriculture wants to know. The USDA awarded a grant to the University of California, Riverside's Entomology Department for "agriculturally relevant research." The research involves students from UCR; and Moreno Valley, Norco and Riverside City colleges. The students have been working to study Pogonomyrmex rugosus ants' behavior, using environmental clues. Preliminary data from fully randomized experiments shows that ants can learn to associate smells with a sugar reward and pass that information to nestmates. The results of this research will be presented at the Honors Conference at University of California, Irvine, in March 2023.
At Moreno Valley College, honor students Gissele Arroyo, Chau Ly, Andrew Romero Ruiz, Daisy Rosales and Daniel Serrano have been participating in the project as individual researchers outside of the course curriculum. Overall, nine classes between UCR and the three colleges are involved.
"I was hesitant when Dr. Joanna offered this opportunity at the beginning of the semester," Ruiz said. "Still, my interest in this species of ants and all other social insects has only grown throughout the time we have done our research. We are learning something unique about this species each week, and I would love to continue researching this species and others if given a chance."
To start the research, the students have identified five colonies on the hills surrounding the campus to conduct their research. During the training phase, ants were exposed to an orange smell with a sugar reward or a conifer smell without a reward. Visiting worker ants were tagged with a touch of paint specific to each smell. After 24 hours, during the testing phase, the colony was presented with the same smells but in the swapped location, and visiting workers were counted. More ants approached the cue suggesting associative learning ability in the species.
"Research on learning in social insects provides opportunities to understand the complex social structure of the colonies, division of labor, costs of learning by individuals, and colony outcomes of learning," Joanna Werner-Fraczek, Ph.D., professor of Biology at Moreno Valley College, said. "Experiments like ours help to address questions about how highly coordinated and organized behavior allows for more efficient exploitation of resources."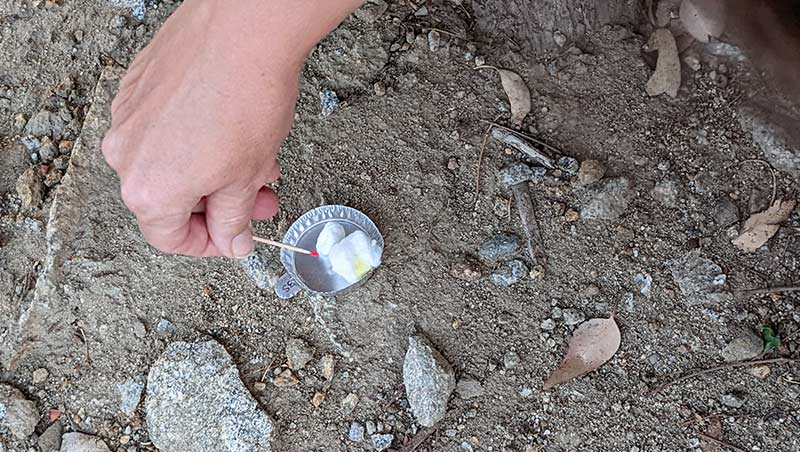 A component of the project is to make university-bound students aware of career opportunities in the agricultural sciences.
"I am constantly considering careers with a degree in biology, but this is the first opportunity that I've had that has given me exposure to agricultural science," Ruiz said. "Based on the experiments and time we have spent working on this project, I would undoubtedly consider a career in this field."
The USDA hopes it can establish a training pipeline to educate K-12 and community college students about agricultural science careers; provide research and internship experiences for motivated students; and identify tactics to enhance education by providing hands-on research experience and linking learning with associated career tracks. Interested students will receive in-depth training in entomological fields to hone skillsets required for careers in agricultural sciences.
"While working on this project, I have a broader understanding of the importance of insects in our ecosystem and how their collaborative behavior makes them a thriving community," Arroyo said. "Whilst working with this species of ants, we noticed their sensitivity to weather and how it affects their activity. For this reason, I believe that research on the behavior of insects is essential to understand their impact on the ecosystem and how climate change may also contribute to their behavior.
"This project allowed me to explore a different field and hone my leadership skills. It has allowed me to participate in presenting my data and working with Ph.D. students. After this experience, I feel better prepared to enter a four-year university and continue to participate in research."
The program ultimately hopes to attract thousands of K-12 students through outreach and hundreds of community college students through curriculum enhancement.
"Impediments to many students are insufficient information about career trajectories provided in a timely manner for coursework guidance," Werner-Fraczek said. "This project will help generate a multifaceted pipeline for students from underrepresented backgrounds to pursue USDA mission critical occupations and create an effective agricultural workforce."