College Celebrates 2022 Graduating Class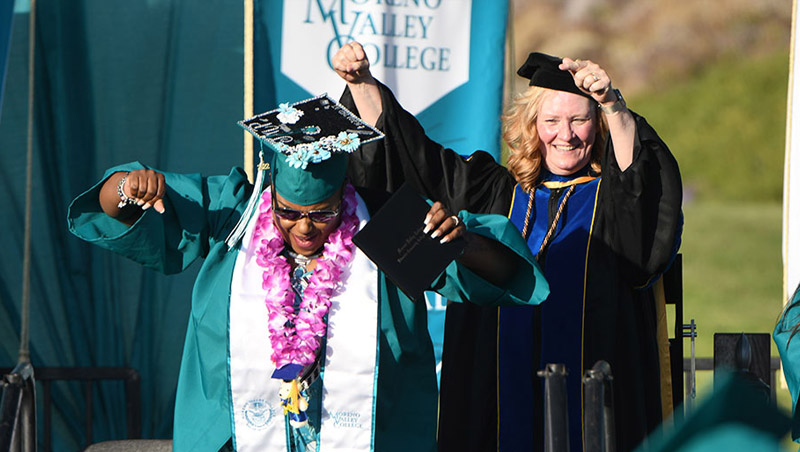 For the sixth consecutive year, Moreno Valley College's graduating class surpassed the 1,000 mark with 1,648 students receiving either a degree or certificate.
Of the 1,648 graduates, 1,167 students earned associate degrees. The 1,167 students amassed 2,309 degrees. Many graduates can earn multiple degrees due to classes satisfying requirements in different degree paths. The remaining 481 graduates, making up the 2022 graduating class, earned 690 state approved certificates.
"Commencement is a significant rite of passage and milestone in a student's personal and professional journey," Robin Steinback, Ph.D., president of Moreno Valley College, said. "We are confident the College has provided a foundation and framework for our students' lives. My hope is that each graduate does great things – never forgetting who they are are and what they do matters."
Watch the Ceremony Commencement Slideshow
Graduation Statistics
Degree and Certificate Awards
| | | | |
| --- | --- | --- | --- |
| | 2019-20 | 2020-21 | 2021-22 |
| Associate Degrees | 2,031 | 1,890 | 2,309 |
| Certificates | 392 | 534 | 690 |
| Associate Degree Recipients | 1,048 | 1,000 | 1,167 |
| Certificate Recipients | 389 | 384 | 636 |
| Degrees for Transfer | 345 | 396 | 465 |
| Youngest Degree Recipient | 17 | 16 | 16 |
| Oldest Degree Recipient | 71 | 71 | 71 |
| Honors, With Distinction (3.3 - 3.69) | 258 | 252 | 312 |
| Honors, Great Distinction (3.7 - 4.0) | 131 | 146 | 189 |
Student Demographics
| | | | |
| --- | --- | --- | --- |
| | 2019-20 | 2020-21 | 2021-22 |
| Female Degree Recipients | | 663 | 767 |
| Male Degree Recipients | | 320 | 387 |
| Asian | 76 | 35 | 42 |
| African-American | 149 | 119 | 125 |
| American Indian/ Alaskan Native | 16 | 28 | 46 |
| Filipino | | 29 | 40 |
| Hispanic | 625 | 552 | 665 |
| Pacific Islander | | 4 | 8 |
| White | 207 | 222 | 222 |
Academic Programs
| | | | |
| --- | --- | --- | --- |
| | 2019-20 | 2020-21 | 2021-22 |
| Middle College | 60 | 75 | 70 |
| Nuview Bridge | | 37 | 58 |
| Veterans | 68 | 46 | 37 |
| College Promise | 139 | 166 | 184 |
| Police Academy | 140 | 61 | 80 |
| Basic Corrections | 119 | 98 | 146 |
| Administrative/ Clinical Medical Assisting | | 19 | 14 |
| Paramedic | | 23 | 33 |
| Emergency Medical Technician | 145 | 122 | 180 |
| Dental Assistant | | 41 | 17 |
| Dental Hygiene | | 33 | 12 |
| Human Services | | 41 | 14 |
| Fire Technology | | 39 | 29 |
| Firefighter Academy | 47 | 66 | 86 |