College Pitch Contest Draws 10 Contestants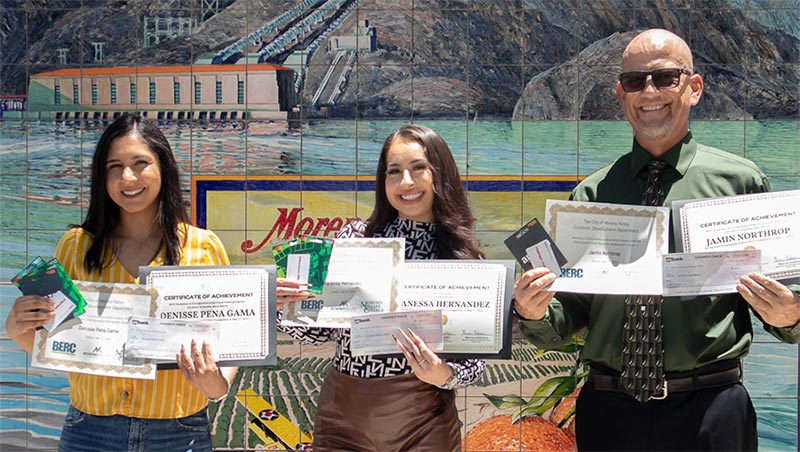 Photo: Denisse Pena Gama (first place winner), Vanessa Hernandez (second place winner), and Jamin Northrop (third place winner).
Moreno Valley College's second annual Pitch Contest attracted 10 contestants. The event coincided with the Business Department's launch of the Entrepreneurship certificates.
"The Pitch Contest provides students an opportunity to develop the skills needed to pitch business ideas," Kevin Stewart, Jr., dean of instruction of STEM/CTE, said.
The Entrepreneurship Program led by Marcus Anderson, assistant professor, and Robert Mason, associate faculty member, has grown the competition in just two short years. With the assistance of faculty, students' business ideas are formed into a two- to three-minute pitch from March to May.
"There were 10 outstanding Business student contestants who were prepared with entrepreneurial spirits and innovative ideas," Laura Dunphy, associate professor of Business, said.
Denisse Pena Gama, a Veteran student, took first place, winning a cash prize of $500 and a $500 gift card for her inspiring idea to invent a Child Alert Bracelet. The bracelet would notify a parent when a child goes out of range from their parent's watchful sight. Vanessa Hernandez claimed second place, winning a cash prize of $300 and a $300 gift card for her podcast for the Moreno Valley community. Meanwhile, Jamin Northrop, a Veteran student, pitched Dad's Gear Bag for young children. He received a prize of $200 cash and a $200 gift card.
Dunphy said the department was grateful to the sponsorship from the city of Moreno Valley, The Office Hub for Small Business and Leading Edge Educational Foundation who raised $2,000 in funds and gift cards for the winners. If you are interested in learning more about the competition, the Entrepreneurship Program or would like to support the Pitch Contest, please contact Anderson by email.