Middle College Student Selected as Commencement Speaker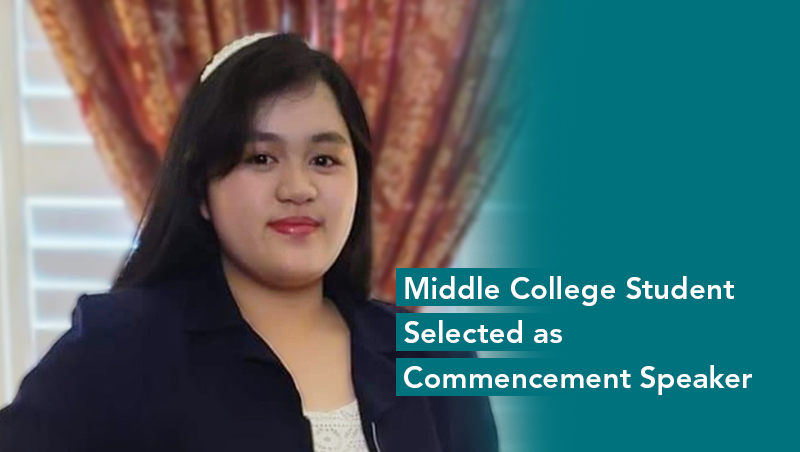 Moreno Valley College Middle College student, Gianine Ariane Nocum Umali, has been selected as Moreno Valley College's 2022 commencement speaker. It is believed she becomes the first Middle College student to be selected as the College's commencement speaker.
Soon to be a graduate of Orange Vista High School, Umali, 18, also earned the right to serve as her high school's valedictorian. After earning her high school diploma, Umali will receive six associate degrees from MVC.
"When I was younger, I always wanted to speak at my graduation," she said. "I wanted to be able to go on stage and thank a lot of people and be able to share a special message with my fellow graduates."
After hearing about the opportunity to speak at MVC's graduation, Umali said it provided an opportunity to fulfill her dream.
"My message for the graduates is to always appreciate all the small things in their life and how we should never change for the sake of other people," Umali said. "I want to be able to share this message with my fellow graduates because these were some of the most important lessons that I learned during my time at Moreno Valley College.
"It took a lot for me to learn these lessons and that is why I hold them close to my heart. I also want to share this message because I think it can apply to almost everyone in our society."
Umali followed in her brother's footsteps. Anjelo Gerard Nocum Umali, who will walk in this year's ceremony, was part of the College's Class of 2020.
"My brother shared his experiences in the Middle College program, and he explained some of the benefits it gave him," she said. "This made me want to join the program because I really wanted to get ahead in my education. I also wanted to see what life is like for a college student and what it feels like to be on a college campus. I wanted to explore more things and meet new people."
Umali also said the opportunity to save her parents tuition money was appealing.
"I wanted to be able to save money for my parents because they have worked so hard for me and my brother throughout our lives," Umali said. "I am very grateful to be a part of this program and I will forever cherish the wonderful memories I have made here. I met some of the most amazing, coolest and nicest people at Moreno Valley College."
Umali has been accepted to the University of California, Irvine to pursue a degree in game design and interactive media. Her goals include a career in game design, art and voice acting. She enjoys playing video games, drawing, researching various topics, reading, watching Anime, and hanging out with friends and family.