Middle College Student Earns Four-Year Scholarship to California Institute of Technology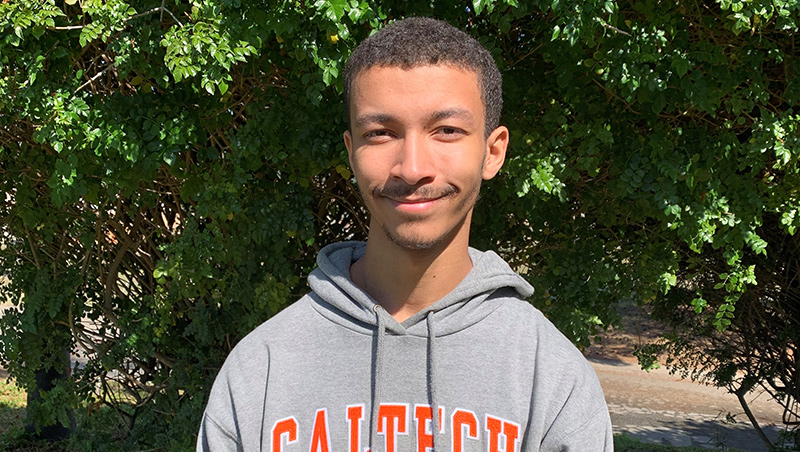 Jude McLean, who will be graduating from the Moreno Valley College Middle College program in June, has been awarded a four-year scholarship to California Institute of Technology (Caltech) through the QuestBridge Scholars Network.
From MVC, McLean, 18, will receive three associate degrees — Math & Science, Social & Behavioral Studies, and another in Humanities. He plans on walking in the College's June 10 commencement ceremony.
"I applied to the Middle College program because it offered higher-level math and physics courses than were available at my high school," he said. "The program was everything I could have hoped for and more. I was no longer relegated to yearlong courses with no tangible benefits. I could pick and choose exactly what I wanted from an expansive course list geared towards my major
"College-level physics, calculus, chemistry, and the like were now within reach, so I grabbed hold of them. In high school, there was no linear algebra, no calculus-based physics, and little chance to truly elevate my education. Middle College gave me that.
McLean, who will also graduate from Rancho Verde High School in May, will be studying physics and computer science at Caltech.
"I've always been enamored by physics and the implications it has for our world," he said. "When I was in the fourth grade, my mom happened to tune in to PBS's Cosmos and I was hooked, immediately transfixed on the universe and our place in it. It was like opening a good book that never seemed to end. The chapters were galactic superclusters, the pages were galaxies, and the words were everything beyond that: from the largest quasars to the smallest elementary particles.
"Suddenly, I was sure of what I wanted to do for the rest of my life. I wanted to study the universe, to make sense of everything out there, just beyond our limited perspective. To me, physics represents the basis for every other science. It is the focal point of our future and will lay the framework for humanity's success. Computer science is a tool to help achieve these ambitions."
According to the Caltech website, undergraduates living on campus for the 2022-23 school year will pay $83,598, and this includes the cost of books, housing, meals, fees, and an estimated $2,700 for personal expenses.
"I had long dreamed of going to Princeton University," McLean said. "The more I looked into Caltech, the more I found to love about it. I was particularly interested in the extensive research opportunities they have for students. I've always wanted to help add to the growing fields of physics and make a mark on the discipline. The sooner I can get involved with groundbreaking research the better."
Caltech accepts only students with the most advanced and rigorous coursework available at their high school, including four years of math (including the highest level of calculus offered at the school); a year of physics and chemistry; three years of English; and a year of US history. A student must have primarily 'A's in the most challenging courses such as Honors and AP level courses and rank in the top 10 percent of their class.
He remembers well the day when Caltech extended its offer
"I can recall the day I was accepted to Caltech and received the scholarship," he said. "I was anxiously checking my status throughout the day. I had been hanging out with my friends in the Middle College program when I decided to take a walk to the Lion's Den, grab a bite to eat, and clear my mind.
"I was in line waiting for my burger to come out when I received a call from my mom who frantically told me the results had been released. I slowly opened my QuestBridge account and couldn't believe my eyes. All the hard work I had put forth for the last 13 years of my life had paid off. I ran to my friends screaming, 'I'm a Caltech Beaver!'"
Although McLean has earned three associate of art degrees, he will enroll at Caltech as a freshman.
"I've taken coursework equivalent to the freshman experience at Caltech, but none of my credits are transferable," he said. "What's good is that this will help to reinforce my knowledge in the subjects I've already taken and strengthen my grasp on them."
Launched in 2009, QuestBridge is a platform that connects the nation's brightest students from low-income backgrounds with institutions of higher education. QuestBridge says its typical finalists come from households earning less than $65,000 a year for a typical family of four and have minimal assets.
In all, McLean applied to five institutions — Caltech, Massachusetts Institute of Technology, Princeton, Yale and Stanford.
"I first heard about the QuestBridge program when I was a junior (in the Middle College program). A senior in the Middle College program had come to speak to us about her experience of applying through QuestBridge," McLean said. "She had recently been accepted to the University of Chicago and encouraged each of us to apply through the program if we met the requirement.
"When I learned that Caltech was one of the schools associated with QuestBridge, I made the decision then and there to apply. Caltech had been my dream school for several years and the opportunity to earn a full-ride scholarship was too good to pass up."