Edison International Grant Enhances STEM Education at Moreno Valley College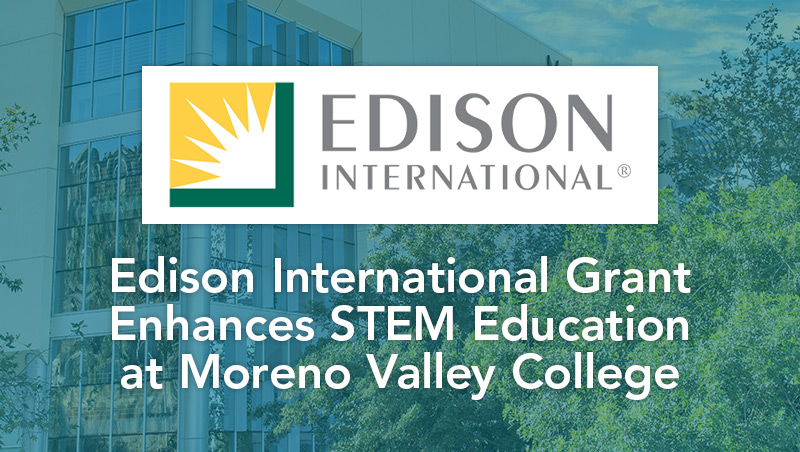 The RCCD Foundation received a $20,000 grant from Edison International to support STEM education at Moreno Valley College (MVC). The grant will provide funding for a series of virtual workshops aimed at growing the pipeline of K-12 students interested in pursuing STEM education and careers.
The MVC STEM Innovation Center will facilitate five virtual STEM workshops this year with an estimated audience of 250 elementary and high school students. Participants will be provided a workshop kit, which includes the microbit (a pocket-sized computer that introduces students to how software and hardware work together) and other items needed to complete the class. Kits will remain the students' property, and the microbits can be re-used for future workshops or classes.
"Thanks to our partnership with Edison International, the STEM Innovation Center will reach a broader set of students with these virtual workshops by removing financial barriers to participate," said Donnell Layne, director of STEM Innovation at MVC. "We are grateful to Edison for expanding educational opportunities and helping build a pipeline for STEM learning opportunities especially for students who are underrepresented."
Moreno Valley College officially opened its on-campus STEM Innovation Center in December 2019. The 4,150-square-foot Center, located in the Science and Technology Building, serves as a hub for innovation and creativity, as well as a tool for recruiting and supporting students who are interested in pursuing STEM careers. The STEM Innovation Center, part of MVC's Career Technical Education division, aims to lead transformational changes in learning, creating and delivering solutions to today's and tomorrow's problems.
This initiative is aligned with the College's goal of expanding educational opportunities
for students of color, and serving as a conduit for underrepresented students interested in pursuing STEM careers. The Center has expanded its reach into the Inland Empire. Through partnerships with the region's K-12 school districts, including Moreno Valley Unified, Corona Unified and Val Verde Unified, MVC is supporting STEM education and contributing to a positive growth for underrepresented students in STEM offerings. In addition, the Center also serves the region's business community by making its state-of-the-art equipment (3-D printers, laser cutters, CNC milling machines, and digital design software) available for use.
The RCCD Foundation staff and board of directors thank Edison International for this generous grant!​