Serrato Selected as Classified Employee of the Year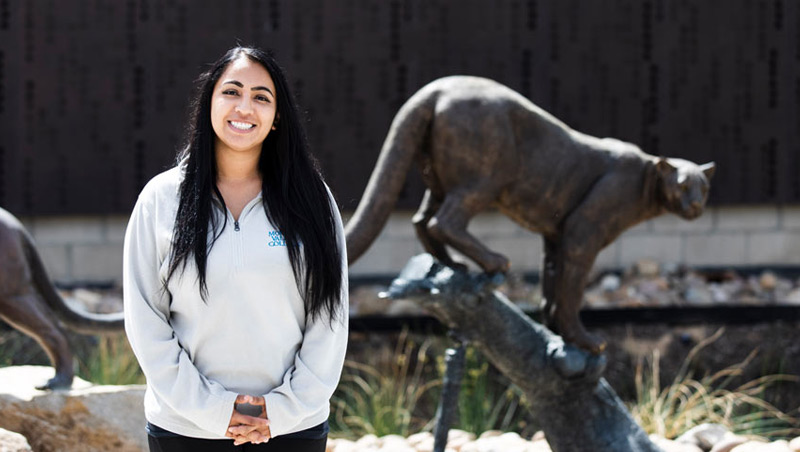 Arlene Serrato has been selected as Moreno Valley College's Classified Employee of the Year.

Since December of 2014, Serrato has been the academic specialist in Evaluations, serving as lead evaluator. She began her career at Norco College as a Learning Center assistant, working in Evaluations, Admissions & Records, and the Assessment Center.

A graduate of Riverside Community College (Norco campus) in 2009, she holds associate degrees in Communication; Media & Languages; and Humanities, Philosophy & Arts as well as an IGETC UC Certification. She went on to attended UC Riverside, receiving a bachelor's degree in History.

"This award is a great milestone in my career. I consider myself a product of this District," Serrato said. "Working at Norco College and Moreno Valley College has helped mold me into the professional I am today. Moreno Valley College has become a second home to me, with many colleagues who I consider my work family."

She is actively involved in CSEA and serves on the Student Equity and Achievement, Stand IV and Diversity, Inclusion and Belonging committees. Serrato is working on a master's degree in Counseling at National University.

"She is a champion for Guided Pathways," Robin Steinback, Ph.D., president, said. "She leans into every conversation, asking whether we are making the best decision for our students. I am very proud to call Arlene my voice of conscious. Arlene Serrato is an amazing person, and she makes a difference every day she comes to work."

Serrato, a mother of a three-year-old and a five-year-old, says that she has always tried to dream big, stay positive, work hard, and enjoy her journey.

"My career really intrigues my mind, I use everything I am involved in to try to make the Evaluations more efficient for students and colleagues," she said. "The virtual world these last two years has helped me be involved while managing my workload, and I'm grateful for the professional development I've received. I come from two very hardworking parents who raised their five daughters to focus on education, work hard in a career, and enjoy life. So, I am proud to share this news with my village."

She and her fiancé enjoy adventures with her little ones. You can find them kayaking at Lake Perris, hiking at Joshua Tree, riding watercrafts, or running around Disneyland.

Serrato, along with Norco College's Leonard Riley and Riverside City College's Linda Sing, were honored at the March 15 Board of Trustees meeting. Sing, a 25-year District employee, was selected by the Board of Trustees to represent the District in the California Community College Board of Governors Classified Employee of the Year competition.