College Receives Grant to Improve Degree Completion, Transfer Rates in Computer Science Fields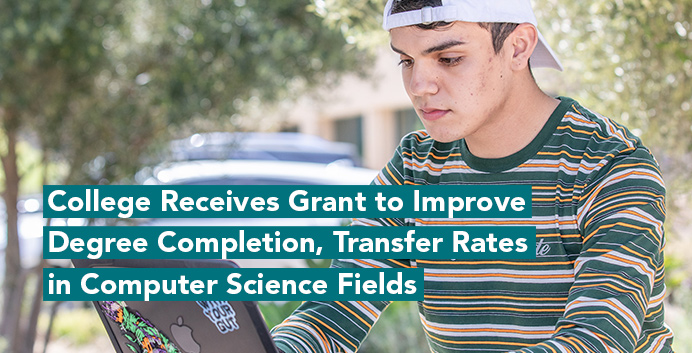 The National Science Foundation awarded Moreno Valley College $1.5 million to enhance student completion outcomes in the computer science field.
Between 2015 to 2018, MVC awarded just 15 associate degrees in Information Technology. And, the College has not produced a single ADT student in the discipline in over three years, and only one graduate successfully completed the Associate Degree for Transfer pathway.
The grant will provide scholarships for first-time students who are 18 years or older. The College's Computer Science Scholarship Program will use Guided Pathways, a highly structured approach to student success by creating structured educational experiences that support each student from point of entry to attainment of high-quality postsecondary credentials and careers, and the College Promise program to encourage degree completion in information technology. The Promise initiative requires a one-year academic commitment from students. It is designed to help students complete their associate degree requirements, transfer requirements, and/or workforce certificate requirements in a timely and efficient manner.
"The project aims to increase student persistence in STEM fields by linking scholarships with effective supporting activities, including mentoring, undergraduate research experiences, internships, transfer and career preparation, and participation in discipline-specific workshops and activities," Kasey Nguyen, Ph.D. , associate professor of Computer Information Systems, said. "With the help of mentors and scholars the College will create student education plans outlining educational and career goals and steps toward achieving those goals."
According to the US Department of Labor, there is need for well-educated scientists, mathematicians, engineers and technicians. Job growth is projected to grow in each field, led by science and engineering opportunities. Jobs in these fields are expected to increase by 11.7 percent over the 10-year period. Scientists and engineers have a mean annual wage that exceeds the mean annual wage for occupations in the United States.
At the conclusion of the grant, the College hopes to meet the following objectives: 80 percent of scholarship recipients will be retained from semester to semester; 75 percent of scholarship recipients will persist from one academic year to the next; 52 percent of scholarship recipients will have successfully completed calculus I and calculus II courses within the first 18 months of their program; 40 percent of scholarship recipients will have completed the Associate Degree for Transfer (ADT) program in computer science, information technology or computer information science within three years; and 60 percent of graduates will have transferred to a baccalaureate program in computer science, information technology or computer information science, and/or enter the STEM workforce within 18 months of program completion.
This project is funded by NSF's Scholarships in Science, Technology, Engineering, and Mathematics program, which seeks to increase the number of low-income academically talented students with demonstrated financial need to earn degrees in STEM fields. Because MVC has a high population of underrepresented students and low-income students, this project has the potential to broaden participation of students in the STEM fields and study the impact of faculty mentoring on this population. It also aims to improve the education of future STEM workers, and to generate knowledge about academic success, retention, transfer, graduation, and academic/career pathways of low-income students.
"The STEM faculty has worked closely with counseling faculty to develop a program that maintains high academic standards and course rigor while addressing the unique needs and concerns of low-income, traditionally underrepresented students," Eric Anthony, associate dean of CTE at the College, said. "The project will expose students to a wide range of career opportunities, facilitating student understanding of where their strengths and interests best fit.
"As these students graduate, transfer and enter the workforce, MVC will contribute to the diversification of the STEM workforce, providing local/regional employers with a workforce pool that directly reflects the communities they serve. This project will also strengthen MVC's instructional and student services programming through expanded and enhanced partnerships with four-year universities and employers."