Student to Teach English in the Fall on the North Coast of Spain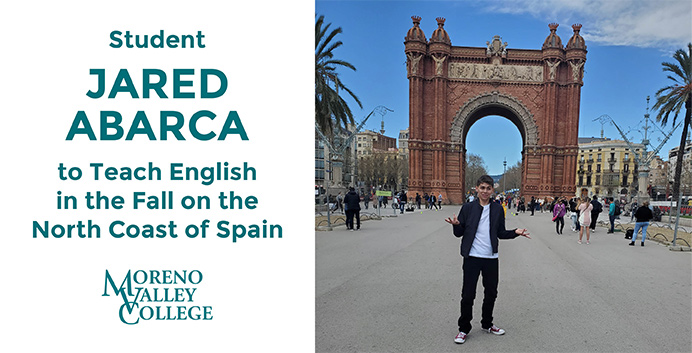 Moreno Valley College student Jared Abarca has been selected as a language assistant by the North American Language and Culture Assistants Program. Beginning in October, Abarca will be a teaching assistant at a high school in Cantabria, Spain, a town on the north coast of the country.
The North American Language and Culture Assistants Program (NALCAP) is an educational outreach initiative of the Spanish Ministry of Education through the Education Office of the Embassy of Spain. NALCAP offers recipients grants to American and Canadian college students and graduates, majoring in any subject, who are native speakers of English and have a basic knowledge of Spanish.
Abarca, under the supervision and guidance of a World/Foreign Language teacher, will be teaching English. Abarca, a communications major, receives a monthly stipend to cover living expenses and medical insurance from either the national government of Spain or the regional governments of Spain, depending on the assignment. His assignment is for 12 to 16 hours of instruction per week and lasts until May 31.
"My main reason for wanting to study abroad in the first place was to learn Spanish in an environment where I could fully immerse myself," said Abarca, a 2019 Citrus Hills High School graduate.
From Columbus, NE, a small town with a population under 23,000 residents, Abarca said, he grew up around Latinos and Latinas. His mother became fluent in Spanish despite not being a native speaker. However, he was never taught Spanish growing up, but he said he worked hard on learning the language.
"When I was 17, I started to try to learn Spanish, and although I began picking it up quickly, I faced backlash from native speakers who seemed to get annoyed by my broken attempts at times to speak their language," said Abarca, who has discussed the idea of majoring in Global Communications and Networking, and attending either a university in Arizona, Oregon or overseas.
Originally, he had hoped the RCCD Study Abroad program in Barcelona would be his opportunity to learn Spanish at a quick pace. Unfortunately, the three-month program was reduced to two weeks as COVID-19 began sweeping across the globe.
"Having to (return home) was probably one of the most heartbreaking things I've had to experience in my life," he said. "To have my trip cut short due to events completely out of my control was terrible and I told myself I was going to try again."
Yet, he still considered the short trip to Barcelona a chance of a lifetime.
"Before the age of 20, I got to experience a foreign city," he said. "The RCCD Study Abroad program provided the opportunity for me to take Spanish I and several Latin history classes taught by the wonderful (World Languages instructor) Gwendolyn Yount."
That experience led to this opportunity.
"That (short Barcelona experience) made me want to apply to this program," Abarca said.
Learn more about the District's Study Abroad program by visiting the program website.