The Economic Value of Moreno Valley College Felt Throughout the Region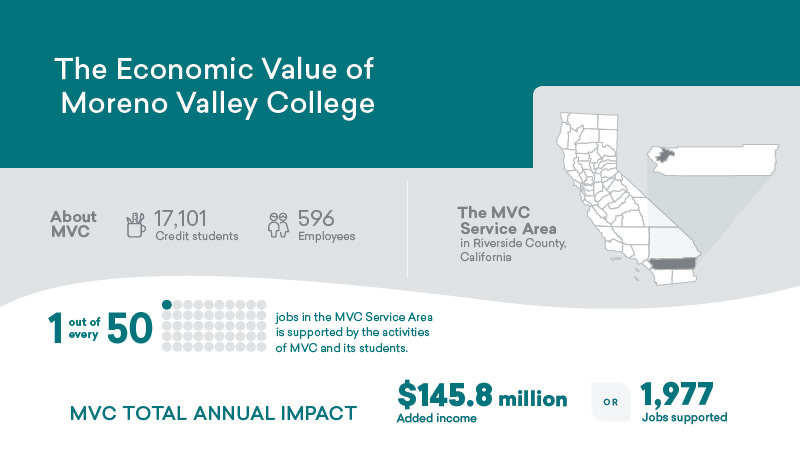 The California Community Colleges system is the largest educational system in the world and its monetary and community benefits are felt in the communities served by a community college.
In February, using 2018-19 data, the California Community Colleges Chancellor's Office, with assistance from Emsi Burning Glass, a data company, analyzed the financial impact of the 116 community colleges. Per the report, community colleges in the state added $128.2 billion in income to the state's economy, or 4.2 percent of the total gross state product meaning the financial impact of the community college system is greater than monies generated by the construction industry in California.
Emsi Burning Glass, a labor market data company with headquarters in Boston and Moscow, AD, along with offices in the UK, Europe, India, and other global locations, completed a financial impact report for the District and Moreno Valley College. Emsi Burning Glass, whose clients include higher education, workforce development groups, and real estate entities, used data from 2019-20 to measure economic prosperity and impact.
Emsi Burning Glass identified how Moreno Valley College influences the lives of students and the region's economy. For the 2019-20 fiscal year, the College's operational spending accounted for $67.3 million; student spending equaled $19.3 million; and alumni impact measured at $59.2 million. In all, MVC's fiscal impact on the region accounted for $145.8 million and equaled to 1,977 supported jobs.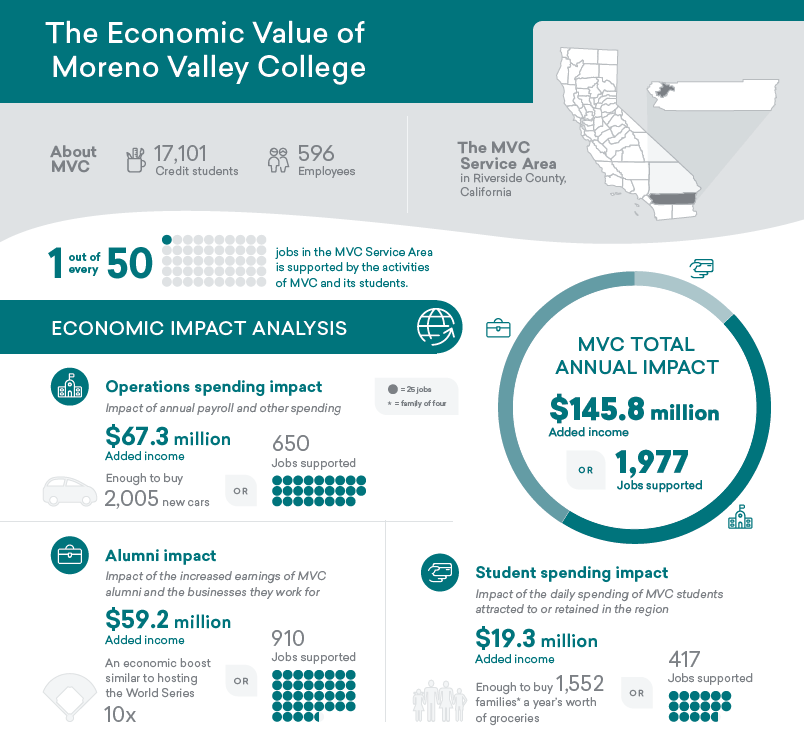 According to Emsi Burning Glass, the College's contribution was nearly as large as the information industry in the region and one out of every 50 jobs in the MVC service area is supported by the activities of the College and its students.
The company also found that MVC generates more in tax revenue than it receives. Taxpayers also saw a savings generated by improved lifestyles of students and a reduction in government services. For every dollar of public money invested in MVC, taxpayers will receive a cumulative value of $1.70 over the course of the students' working lives.
"I know that the community realizes who we are and understands what we do, but I don't think the communities we serve comprehend the fiscal impact generated by the colleges, students and our alumni," Wolde-Ab Isaac, Ph.D., chancellor of RCCD, said. "The bottom line is that community colleges add significantly to the health of communities, from a well-trained workforce to augmenting the economic makeup of their communities. College graduates rely less on government services than high school diploma holders and contribute more to a community's tax base.
"It is imperative that the District continue to encourage support locally for the colleges to meet the region's education needs; both Norco and Moreno Valley colleges and the Ben Clark Training Center need substantial facility growth; and Riverside City College, the oldest institution, requires campus-wide improvements in order to deliver comprehensive education opportunities for the next generation of learners."
Altogether, the social benefits of MVC equal a present value of $1.2 billion. These benefits include $945.6 million in added student income, $245.8 million in added business income, and $31.6 million in added income from college activities as well as $22.3 million in social savings related to health, crime and income assistance in California. People in California invested a present value of $130.4 million in MVC in FY 2019-20. This includes all the college and student costs.
The benefit-cost ratio for society is 9.5, equal to the $1.2 billion in benefits divided by $130.4 million in costs. In other words, for every dollar invested in MVC, people in California will receive a cumulative value of $9.50 in benefits. The benefits of this investment will occur for as long as MVC's FY 2019-20 students remain employed in the state workforce.
"This economic impact report further highlights that the College is a worthwhile investment for taxpayers and our communities," Dr. Robin Steinback, MVC president, said. "A certificate or an associate degree creates a positive return on the taxpayers' investment. By returning more than what is budgeted for the College creates a wide range of social benefits throughout the Valley, Southern California and the state.
"Community colleges enrich lives of individuals who seek an education. Educators, at every level, help students achieve their individual potential, and by doing so raise their lifetime earning potential and reduce the need for government-led social services. Here in the Valley, Moreno Valley College benefits its communities by adding financially to the region's economy, and aids in the development of a well-trained and educated workforce for employers while also improving the lifestyle of students and alumni."
Note: Data and assumptions used in the study are based on several sources, including the FY 2019-20 academic and financial reports from MVC, industry and employment data from the US Bureau of Labor Statistics and US Census Bureau, outputs of Emsi Burning Glass' Multi-Regional Social Accounting Matrix model, and a variety of studies and surveys relating education to social behavior. The study applies a conservative methodology and follows standard practice using only the most recognized indicators of economic impact and investment effectiveness.