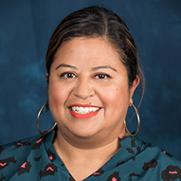 Valarie Zapata, Ph.D.
She/her/hers
Professor, English
About
Valarie Zapata has been teaching English and Film Studies for over 20 years, nearly 18 of which have been at Moreno Valley College. Her courses often center around BIPOC (Black, Indigenous, People of Color) and LGBTQ+ voices.
She serves as Puente Coordinator and is part of the Committee for Diversity, Belonging and Inclusion. She's an anti-racist, queer activist, and student-centered instructor who wants to celebrate what students bring to the table. She loves to write and travel.
Educational Background
B.A., M.A., Ph.D., University of California, Riverside.
At Riverside Community College District since 2005.