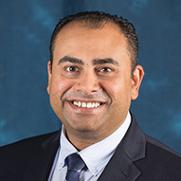 Nader Ghopreal
Director, Business Services, Division of Business Services
Nader has over twelve years of experience in accounting, administration, and financial analysis. He holds a master's of science in accounting and a bachelor's of science in business administration. Nader joined MVC family as a financial and technical analyst in 2021, and has been with the district since 2016 as a grants administrative specialist at Riverside City College. Prior to joining the District, Nader was an accountant at Riverside County, and before that he worked as a senior accountant in a multinational travel company.
Nader's career has been centered in the field of Accounting in the three different sectors: for-profit business, not-for-profit organization, and government agents. He has been involved in positions that focus on overseeing restricted funds of public projects, providing strategic analyses for administrators to monitor project effectiveness, and preparing financial statements and special reports required by government and non-government agents, improving internal control, developing policies and procedures, and ensuring compliance with regulations and the updated law. In addition, Nader teaches Accounting as an adjunct faculty at RCC.
"I grew up in Egypt, and am married and blessed with two children. Some of my hobbies include drawing, especially nature with acrylic paint, growing plants indoor and outdoor, and playing bowling games with my family and friends. I also love classical music, especially the piano."