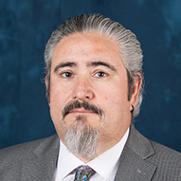 Mark Figueroa, Ph.D.
He/him/his
Vice President, Division of Planning & Development
About
Figueroa spent 10 years at Lewis & Clark College, a private institution in Portland, OR. He is familiar with the Inland Empire, having earned his bachelor's degree in Philosophy-Law and Society with a minor in Chicano Studies from UC Riverside.
He went on to earn a master's degree from Arizona State University in Public Administration, with a concentration in Management. He then attended Claremont Graduate University, earning his Ph.D. in Education, specializing in Higher Education and Administration.
A published author, Figueroa has also presented on topics ranging from data utilization to student success.
Figueroa is also a sought-after consultant, working previously with San Mateo Community College District, Pasadena City College, Walla Walla Community College, and other institutions on equity, opportunity and access. He began his career as a research assistant at Arizona State University but progressed into the fields of institutional research, equity and inclusion, and assessment. In 2011, he left Scripps College to become the director of Institutional Research at Lewis & Clark College. He was promoted to associate provost and then to associate vice president of research and planning. In 2019 he was also named dean of Equity & Inclusion. Figueroa managed the operations of two divisions and also served as the Title IX coordinator.
Educational Background
B.A., UC Riverside.
M.P.A., Arizona State University.
Ph.D., Claremont Graduate University, Education.
At Riverside Community College District since 2021.