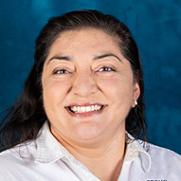 Evelyn Gonzalez
She/her/hers
Enrollment Services Assistant, Enrollment Services
About
Evelyn Gonzalez, has worked at Moreno Valley College since the early 2000s. She is also a graduate of MVC, having earned degrees in Social and Behavioral Studies and Administration of Justice. She then went on to earn a bachelor's degree in Workforce Education and Development from Southern Illinois University, Carbondale.
A graduate of Perris Lake High School, Gonzalez was active in the High School Public Safety Internship Academy, then run by Riverside Community College. She volunteered for the Riverside County Sheriff's Department at the Perris station as an explorer, explorer advisor, citizen patrol and scenario role player at the Sheriff's Academy.
The summer after high school, she interned for the Riverside County Sheriff's Department at the Ben Clark Training Center. From there, she was hired as an office assistant for the Department of Public Safety Education and Training's Law Enforcement Training programs at the BCTC. In 2010, her position transitioned to Enrollment Services. In December 2015, she transferred from BCTC to the College campus. Since October of 2019, she has also been serving students as an educational advisor.
Gonzalez was selected as the Classified Employee of the Year by Riverside Community College District Board of Trustees in 2020.
I love helping people. The thing I like best about being an educational advisor is that I am able to help a student from matriculation to class selection. I feel a sense of pride when a student approaches me later in their academic journey to thank me for having helped them along the way."
Educational Background
A.A., A.S., Moreno Valley College.
B.A., Southern Illinois University, Carbondale.