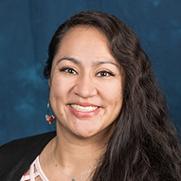 Emma Pacheco
She/her/hers
Assistant Professor, English
About
Emma Pacheco is an Associate Professor of English and one of the MVC Puente Program's English Coordinators. She received her B.A. at UC Riverside and her M.A. at Cal Poly Pomona. After completing her undergraduate and graduate work, she returned to the Inland Empire to continue to serve the Moreno Valley Community. During her Puente training, her educational practices were influenced by a Pedagogy of Cariño, which focuses on being "culturally responsive, student-centered with a focus on equity, access, social justice, and inclusivity." She loves her family, traveling, hiking, and her dogs.
Educational Background
B.A., University of Riverside.
M.A., California State Polytechnic University, Pomona.
At Riverside Community College District since 2018.