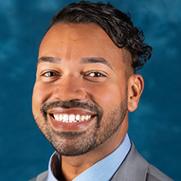 Christopher T. Sweeten
He/him/his
Vice President, Division of Student Services
About
Christopher Sweeten is an innovative leader with over twelve years of administrative and leadership experience in the community college system.
He currently serves as the vice president of Moreno Valley College's student services, providing vision and support to implement and sustain strategies that impact student success. In his position, he is responsible for the leadership of the college's comprehensive student services division, emphasizing student-focused experiences that are inclusive to all identities.
His administrative positions have included dean of student services at West Los Angeles College, dean of pathways and student affairs at Los Angeles Trade-Tech College, director of student affairs at the University of Riverside; School of Medicine, and student services supervisor for Upward Bound at Mt. San Antonio College.
He has dedicated much of his professional career working with underserved and underprepared populations, focusing on increasing access and opportunities through equity-based practices. He is recognized for developing innovative programs and systems, leveraging traditional and alternative resources through collaborative and integrated efforts to support student achievement.
Being the first in his family to attend college, he holds a B.A. in ethnic studies from the University of California, San Diego, an M.A. in education from the University of California, Los Angeles, and a doctoral candidate in educational leadership and organizational change from the University of Southern California.
Educational Background
B.A., University of California San Diego.
M.A., University of California Los Angeles.
At Riverside Community College District since 2020.